Turban Chopsticks Onion Bhaji Mix: We have created the most delicious savoury pancakes using this mildly spiced onion bhaji mix from local business Turban chopsticks. Topped with a mild Indian spiced chicken mince, crispy cabbage salad and finished with minty yoghurt. A sneaky shortcut to a restaurant quality dinner!
Want to know more about Turban Chopsticks and the wonderful woman behind it all? Check out our blog post from when we spent a day with Mei (Turban Chopsticks founder)!
INGREDIENTS:
- 400g shredded red cabbage or coleslaw
- 1 Lebanese cucumber
- 2 tomatoes
- 1 sachet tomato paste (2 tbsp)
- 1 packet mint
- 200g natural yoghurt
- 600g chicken mince
- 1 packet Turban Chopsticks Onion Bhaji Mix (add to your Dinner Twist delivery here)
- 400mL coconut milk
- 4-5 spring onions
From your pantry:
Oil (we used coconut oil for cooking), vinegar, salt, pepper, garam masala
This recipe is Gluten-free.
Make this recipe Vegetarian / Vegan: 

Substitute chicken mince for 2 x 400g chickpeas (up the garam masala to 1 tbsp and lightly mash when cooking). Substitute natural yoghurt for coconut yoghurt.
METHOD:
1. Dress the cabbage with 1 tbsp olive oil and 1 tbsp vinegar (optional). Slice cucumber and tomatoes. 
Place all at the table for serving.
2. Chop mint leaves to yield 2-3 tbsp, combine with yoghurt and season with salt and pepper to taste (blend if you prefer a smooth texture).
3. Whisk to combine the contents of the Onion Bhaji Mix with coconut milk and 1 cup water. Slice and add spring onions.
4. Heat a large frypan with oil over medium-high heat. Add chicken mince, tomato paste, 2 tsp garam masala, salt and pepper. Cook for 5-6 minutes, breaking up lumps with a wooden spoon. Set aside in a serving bowl, wipe the pan and keep over medium-high heat.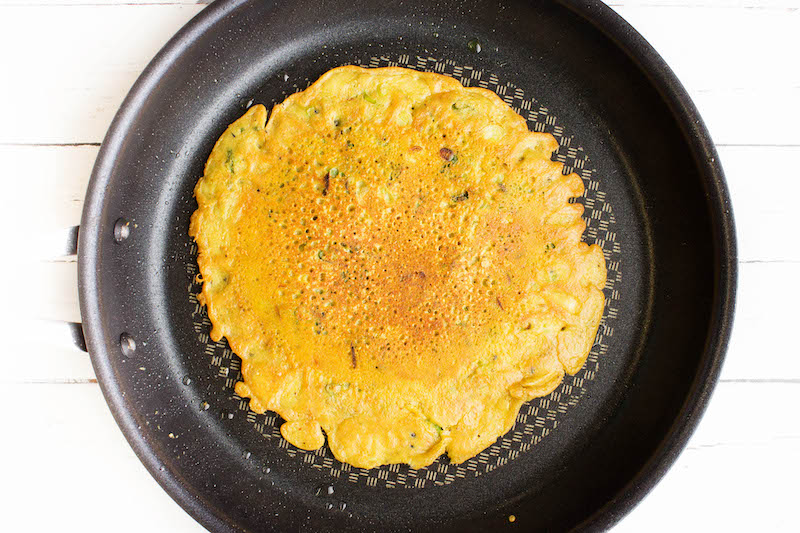 5. Add 1 tbsp oil to frypan. Add 3/4 cup batter mix into the pan to cook. Flip after 2-3 minutes. Repeat to make 4-6 pancakes (make the pancake smaller than the base of the pan, then it's easy to flip!)
6. Take everything to the table and assemble each pancake topped with spiced chicken, prepared vegetables and dollops of minty yoghurt.