We're sure you've all heard this name before, however, if this is your first time hearing it, brace yourselves. You're in for a treat!
Our beloved friend Mei, the founder of Turban Chopsticks, is back in Dinner Twist HQ once again, but this time around it wasn't just to devour all of her scrumptious products, we got her in the kitchen cooking up a storm with our recipe team, and boy was it a success!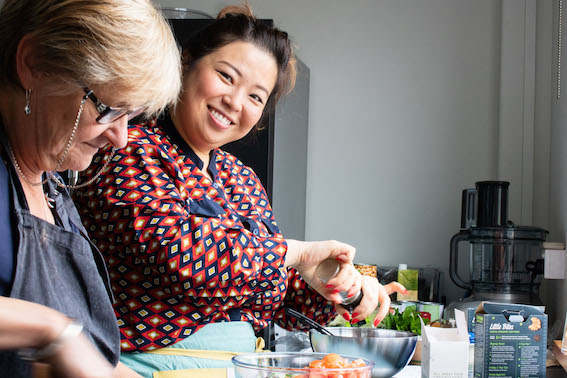 For those who are wondering "Who on earth is Mei!?" and "There's such a thing as chopsticks wearing turbans!?" Don't fret, we are here to fill you in about this wonderful woman, her company, and why we choose to incorporate her products into your boxes!
Mei was brought up in a environment where food was part of their DNA. She was exposed to a bold variety of cuisines and exotic ingredients. As Mei became independent, taking care of herself, she encountered an inconvenience in her own personal life, early in her career which became the reasoning behind her business venture.
"As I entered adulthood, my lifestyle changed. I was a busy working professional who travelled a lot and didn't have much time to cook. After a long day, the last thing I wanted to do is spend hours in the kitchen. But, I still wanted a meal that was healthy and tasted amazing. I knew I wasn't the only one who craved authentic home cooked meals - the kind I grew up with - but also didn't want to use prepackaged food with suspicious ingredients and origins, or have the time to source and cook everything from scratch." - Mei Yong
Soon after, Mei recognised a gap within the market for pre-made meal kits and curry sauces using clean ingredients and packed with flavour available for the busy parents, hard working professionals and enthusiastic home cooks seeking a cheeky shortcut to an authentic food heaven!
Fast forward through a lot of blood, sweat and tears and VOILA! Turban Chopsticks was born! A company developed to offer you fool proof meal kits and sauces to help you become a Masterchef in your very own kitchen.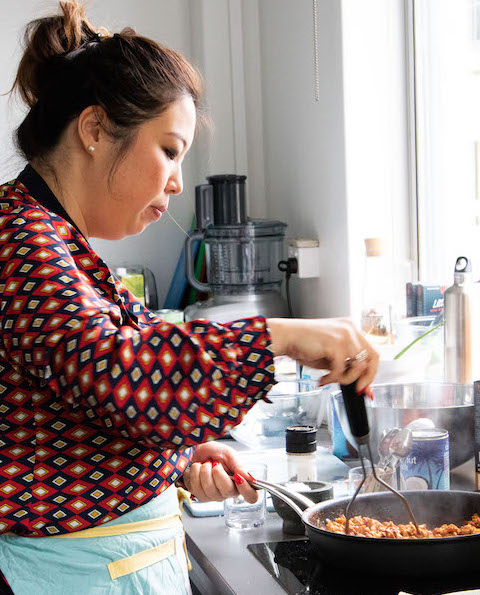 Just like Dinner Twist, Mei and her company take pride in their product quality, supporting local business and promoting a sustainable future. Turban Chopsticks products use the finest natural, clean ingredients, free of any nasties and are handmade locally here in WA. They are allergen friendly, committing themselves to offer real, honest and wholesome produce, using ingredients sourced only from local WA farmers and businesses, creating food that everyone can enjoy. To top it all off their packaging is eco-friendly, recyclable and produced here in our beautiful state of Western Australia.
Sound familiar? You betcha!
It's no secret the team at DT believe it is important to cater to all, whether it be vegetarian or gluten free, we take the time to ensure there is no tummy we can't fill, whilst using the freshest local ingredients we can get our hands on, which proves why we love and trust Mei and her company.
So, now that you get the gist as to why we love Mei and the company she has developed, you can understand why we wanted to get her into our kitchen last week!
The recipe team here at DT took four different Turban Chopsticks products and created new recipes that utilised the products at hand, and could be included in our customers boxes in the near future. It was super exciting for us to get Mei in the kitchen because we weren't using her products in the exact way they were intended, we wanted to test their versatility, DT style!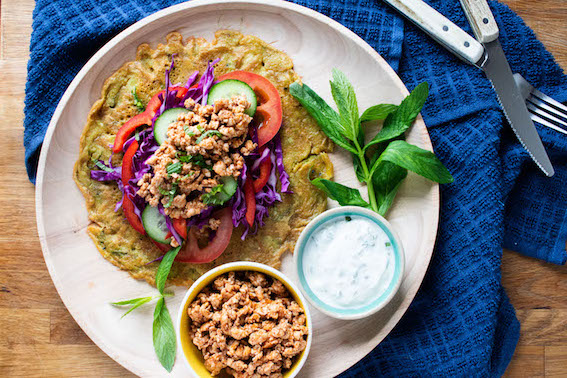 Above: Coconut pancakes with chicken and crispy cabbage slaw - using the Turban Chopsticks Onion Bhaji Mix.
We also like to test products such as these because we know that when our customers open their DT delivery they can be taken aback by the fact there are "pre-packaged" ingredients within their assigned meals. It is important our precious customers, aka DT family, understand that we give them only the best fresh, local and healthy ingredients we can get our hands on. Although products such as these are packaged prior to receiving them, we do our research and ensure the companies we team up with reflect similar core values to ours and are filling your tummy's with nutrient packed goodness.
So the next time you catch yourself having a browse through the supermarket, keep your eyes peeled for Turban Chopsticks and clear the rack clean, because trust us when we say these are a MUST in your pantry and you'll want to share this deliciousness with all your friends and family.