Treat yourself on a cool Autumn day with this apple, sandalwood nut and baobab loaf! It's warming, wholesome, and so tasty you'll come back for seconds.
The loaf is made with our favourite GH Produce Paleo Banana Bread Mix. We simply swapped bananas for natural yoghurt, fruit and nuts. It's not only moist and delicious, but also high in fibre and nutrients from the many natural ingredients! Yum.
Pictures and recipe by GH Produce.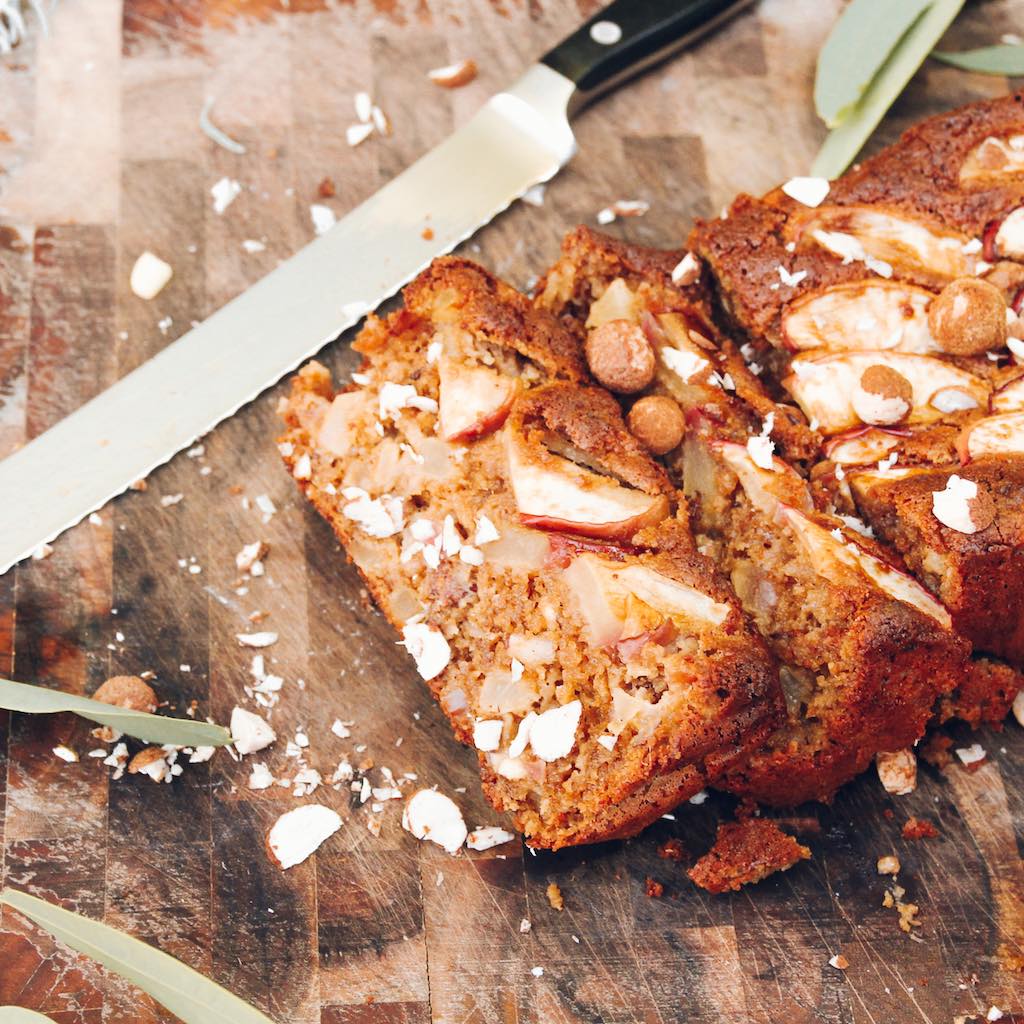 15 min + 40-45 min in the oven - makes 1 loaf
Ingredients:
1 packet GH Produce Paleo Banana Bread Mix
2 free-range eggs
2 seasonal apples, finely diced
1/2 cup coconut or natural yoghurt
2 tsp baobab
1/3 cup olive oil
1/2 cup WA sandalwood nuts (or walnuts/pecans)
garnish: one sliced apple & coconut sugar
You will need: 1 loaf tin, baking paper, hand/electric mixer.
Method:
Preheat oven to 160 degrees fan-forced and line a loaf tin with baking paper.
Pour the Banana Bread Mix into a large mixing bowl and make a well.
Add chopped nuts and apple.
Whisk eggs in a small bowl and add to the mix.
Add coconut yogurt, olive oil and baobab and gently mix until everything is well combined.
Pour the mixture into the lined loaf tin and top with sliced apple and coconut sugar.
Bake for 40-45 minutes until a skewer comes out clean and is firm to touch.
Allow to cool on a wire rack for 10 minutes before serving.
Serve as it is, or with grass-fed butter.
Store in an airtight container in the fridge for 5 days, freeze for months.
Make this recipe at home! You can add: GH Produce Paleo Banana Bread Mix, CharCol Springs pastured eggs, seasonal WA apples, Farmers Union Greek-style yoghurt and Reagans Ridge organic olive oil from the Dinner Twist Marketplace.