Meet our new friends, Empire Pastry!
If you have been perusing the Dinner Twist Market Place recently, you may have spied a new edition, pastry rolls from Empire Pastry!
Empire Pastry was born from a love of good food. Owners, Cath & Meg, embarked on a journey to find out how to make the best pastry using as many locally supplied, small producer, quality ingredients as possible. From there, the making began. After a year of research and perfecting their technique, Empire Pastry was born.
Like us, Empire Pastry loves its Western Australian community. They are committed to creating and nurturing community partnerships and promoting opportunities for businesses to grow and thrive together by prioritising locally sourced quality ingredients from small producers and by supplying local WA businesses, like us, with their gorgeous pastry!
A little bit about the pastry range:
Puff Pastry
All butter, flaky, pastry heaven! This puff is prized for its' crisp and buttery texture, with distinct airy layers once baked. It is perfect for making sausage rolls, vanilla slices, savoury pie lids and scrolls.
Shortcrust Pastry
A classic pastry dough with a tender and crumbly texture. Shortcrust pastry has a versatile range of applications. Use as a base to make savoury galettes, quiches, pie bases and savoury tarts.
Vanilla Shortcrust
Fragrant, cheeky and sweet. This pastry is the perfect base to build your dream dessert. Need we say anymore?
These pastry sheets offer a simple solution to every home cook wanting to create something delicious, without having to compromise on quality. Of course, we had to have a play around with this delectable pastry. We chose to create a beloved classic, Quiche Lorraine, using puff pastry. Here, we have baked them as individual quiches, perfect for a grab-and-go lunch option, to pack in a picnic, or to serve at brunch.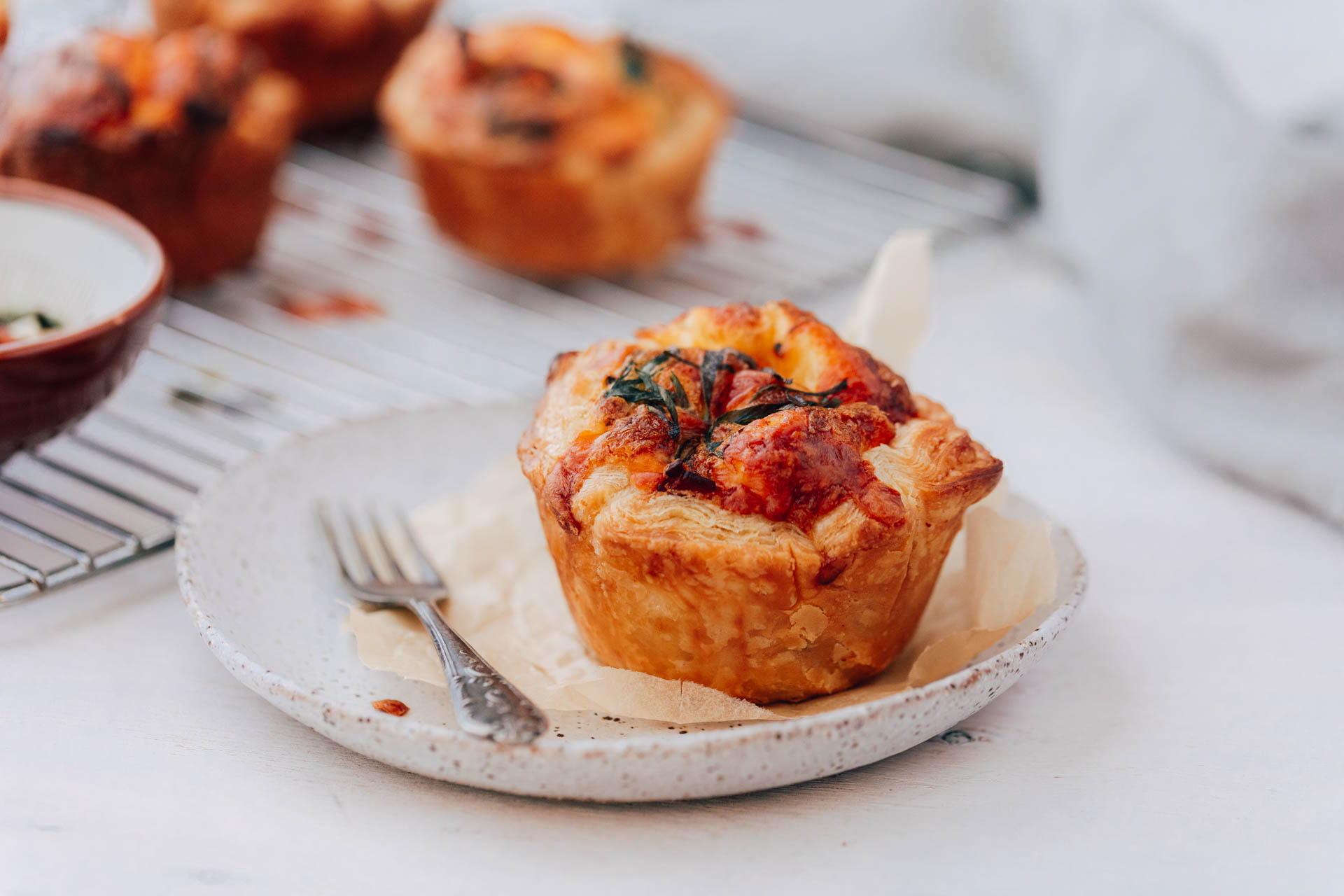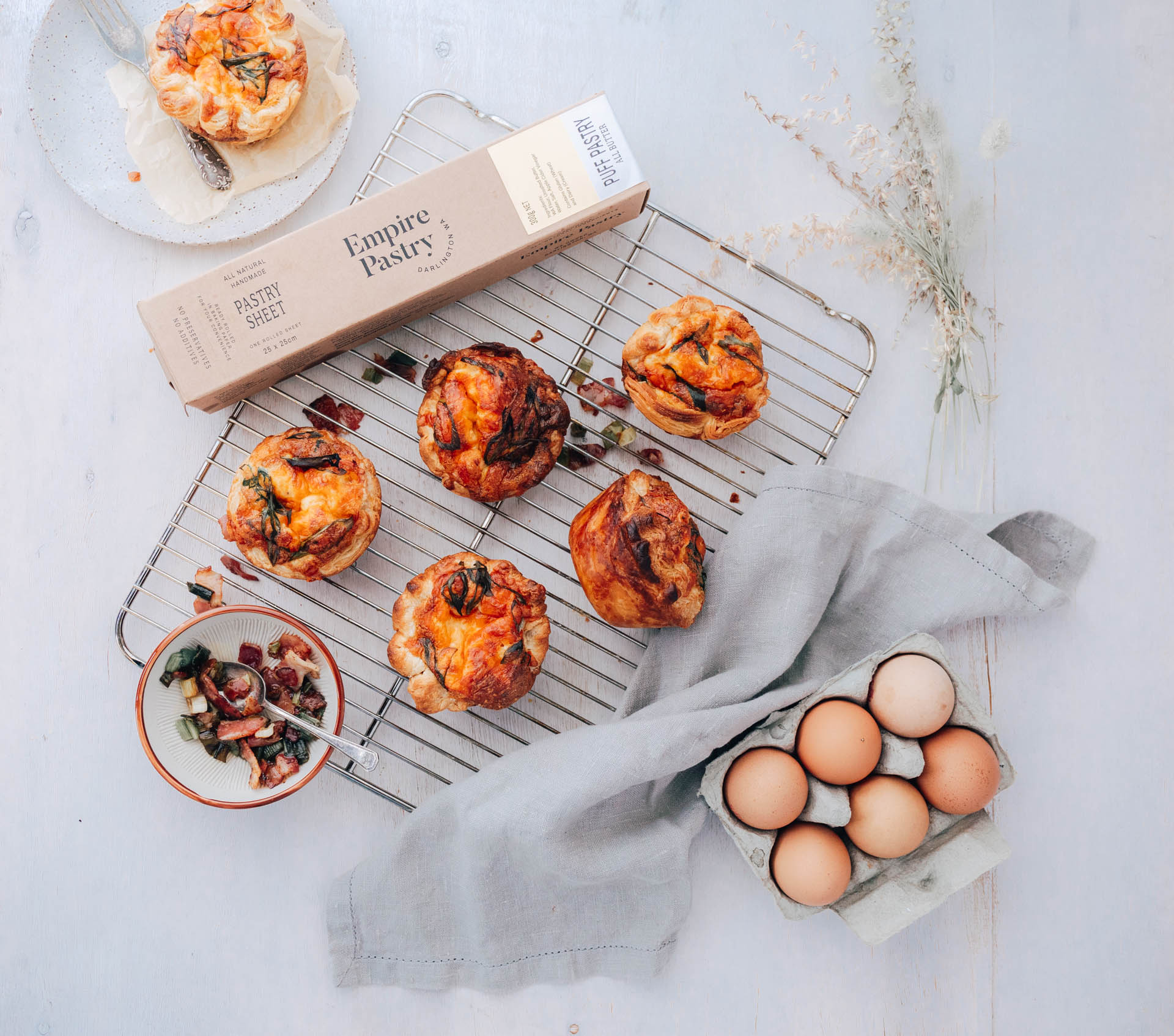 Puff Pastry Quiche Lorraine
Ingredients :

make 6 individual quiche
1 tbsp butter
1 garlic clove
1/2 bunch spring onions
180g bacon
6 eggs
300ml whipping cream
300g puff pastry sheet
125g grated cheddar cheese
Method
Preheat oven to 220ºC. Defrost pastry.
Heat a frypan over medium heat with butter. Cut bacon into small strips, finely chop spring onions (reserve green tops for step 5) and crush garlic clove. Add to pan as you go. Cook until onion is soft and bacon just crispy. Remove from heat and set aside to cool.
Crack eggs into a jug. Pour in the cream. Season with salt and pepper and whisk to combine well.
Use a rolling pin to gently roll out pastry. Cut into 6 pieces. Press into a 6-hole muffin tray.
Evenly divide bacon mix and cheese into pastry. Pour in egg mix to fill halfway. Let the egg mix settle for 1 minute, then fill to the top. Garnish with reserved spring onion green tops and extra cheese.
Bake for 15-20 minutes or until the pastry is golden and the egg mixture is set. Allow to cool for 5 minutes then remove from muffin tray.
Cooking notes:

We recommend thawing pastry in the fridge instead of at room temperature. Keeping the pastry cool makes it easier to work with and stops the butter in the pastry from melting before it goes into the oven.
We used a large muffin tray to bake individual quiche, but you could use individual quiche tins or one large quiche tin instead.
It is best to remove the quiche from the muffin tray as soon as possible. This reduces the risk of the pastry sticking to the tray. To remove quiche, try tipping the muffin tray on an angle to see if any will come away freely. If not, run the back side of a butter knife around the edges to help free the quiche.
These can be made a day ahead of time. Reheat in an oven preheated to 220ºC until warm.
Want to make this at home? We used Empire Pastry Puff Pastry Sheet, The Farm House Honey Cured Free-Range Bacon and The Kitchen 2 Kitchen Shredded Cheddar Cheese from the Dinner Twist Marketplace.