Get ready for a spooktacular Halloween treat that's perfect for little goblins and ghosts!
Our child-friendly Halloween charBOOterie platter is a deliciously eerie ensemble that will have kids howling with delight.
Picture this: melted cheesy mummies and ghosts, dragon's eggs, cream cheese and prosciutto transformed into creepy eyeballs, crisp apple slice ghouls, haunting Frankenstein's monster kiwi fruits and spooky cucumber ghosts!
This platter is n feast for the taste buds and the eyes, making your Halloween gathering a memorable, wholesome, and fun experience for all the little trick-or-treaters. It's a treat, no tricks!
Assemble your little monsters and ghouls around our Halloween charBooterie platter, and watch their faces light up with excitement as they devour these creative and nutritious delights. This is a delightful way to balance out the Halloween sweets and introduce some healthy options that make for a ghoulishly good time. So, this Halloween, bring out the snacks that will leave your little ones howling for more, all while keeping the festivities child-friendly and full of scrumptious surprises.
Some tips before you start out:
get the little ghouls involved, they love a job!
while healthy snacking is the name of the game, candy eyeballs are your best friend here!
serve this platter prior to trick-or-treating in an attempt to fill up those bottomless pits!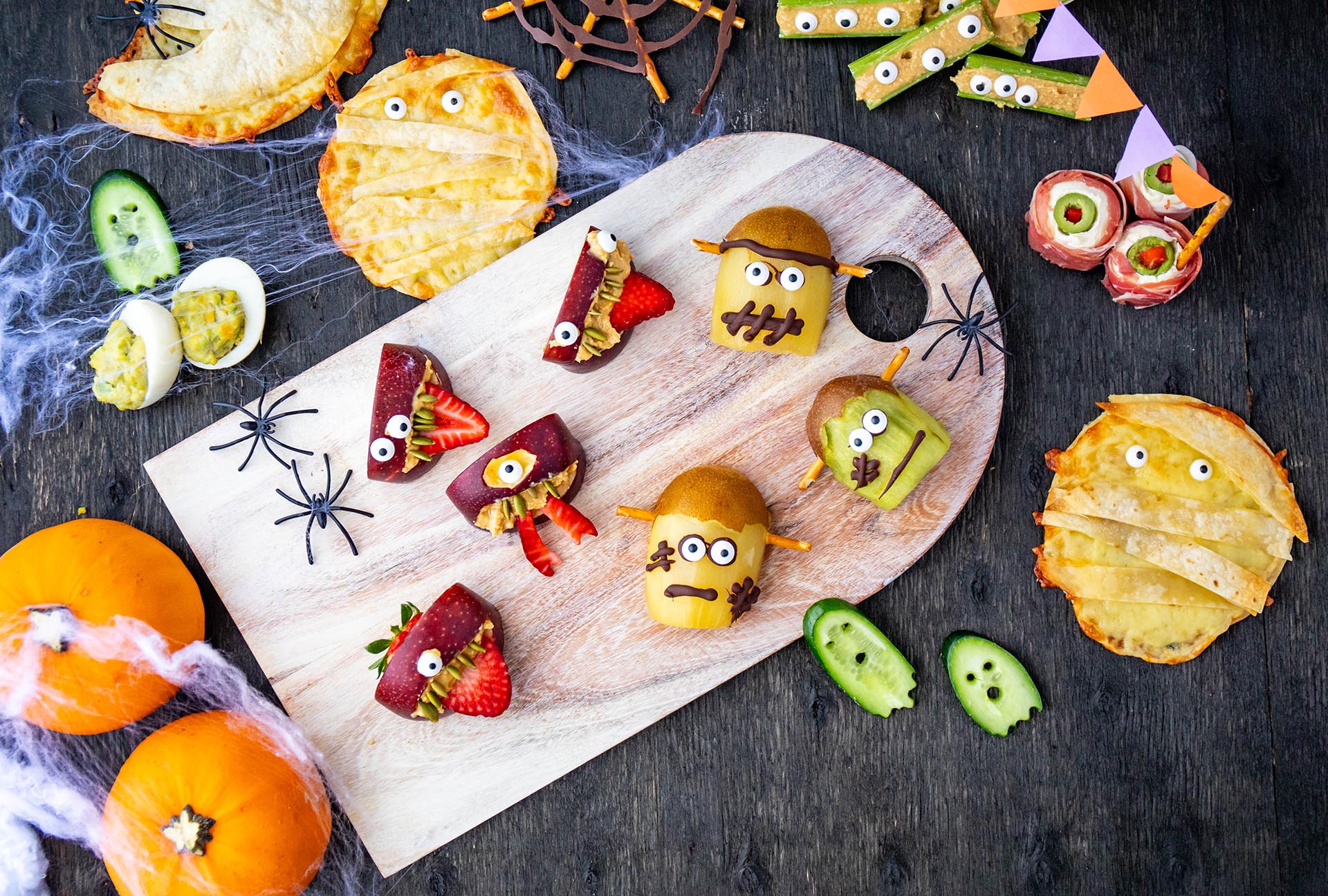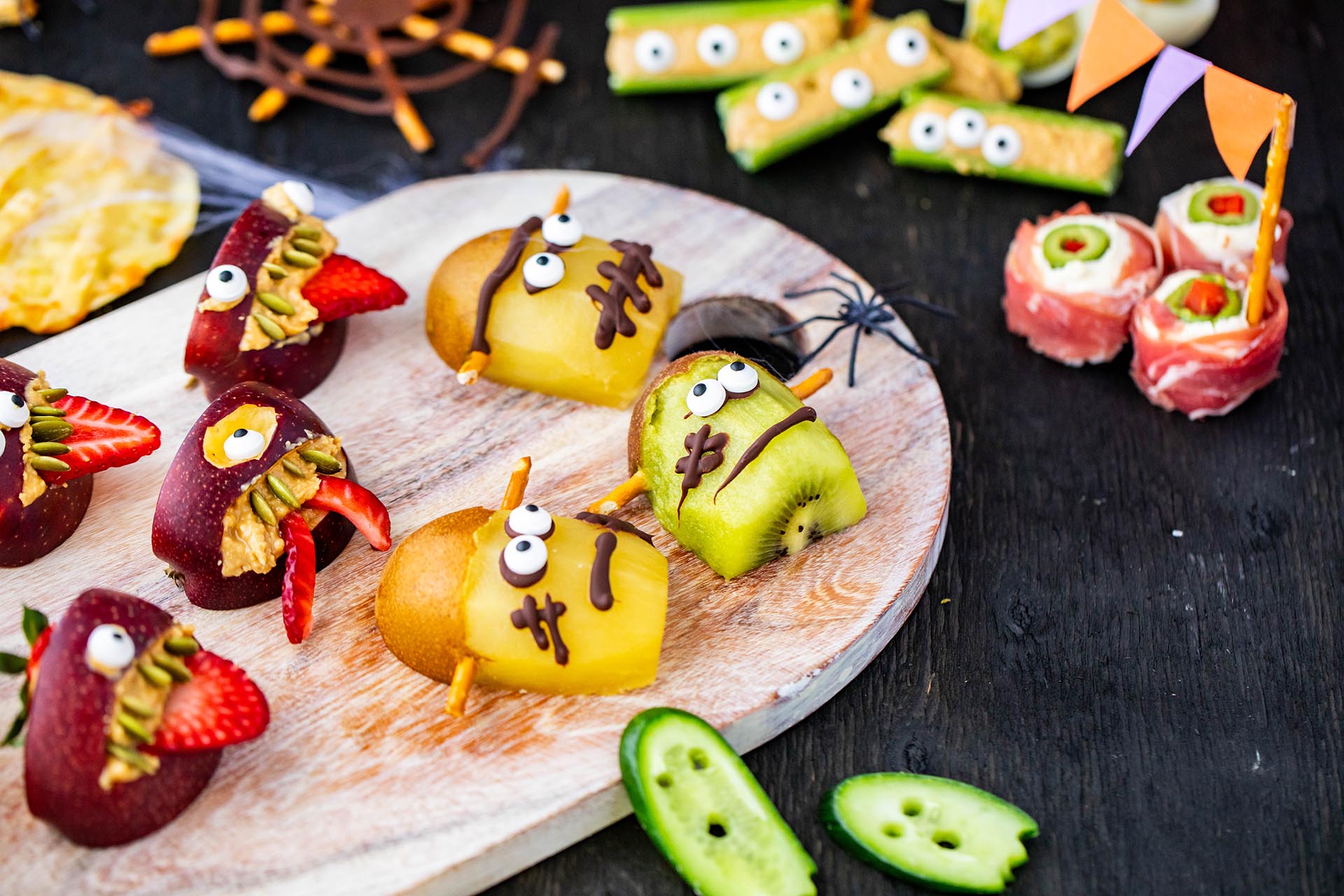 Apple Ghouls
Ingredients :

makes 8
2 apples
2 strawberries
2 tbsp peanut butter
pepitas
candy eyes
Method
Use a sharp knife to quarter apples and remove cores.
Carefully cut the middle out of each quarter to create the mouth pocket.
Thinly slice strawberries.
Fill mouth pockets with peanut butter.
Place strawberry slices inside mouth pockets to create a tongue and add pepitas to create teeth.
Use small amount of peanut butter as glue to hold down candy eyes.
Cooking notes:

replace peanut butter with nut butter of choice or tahini or cream cheese for a nut-free option.



Cheesy Mummy Wraps
Ingredients :

makes 4
8-pack wraps
shredded cheddar cheese
candy eyes
Method
Set oven to 220ºC (or preheat sandwich press).
Place 4 wraps on a lined oven tray and cover with cheese (these are your bases).
Cut remaining 4 wraps into strips of varying thickness.
Use the strips to create mummy wrapping.
Bake until cheese is melted and wraps are golden and toasted.
Add candy eyes if desired.
Want to make this at home? We used Diego's Gowell Classic Wraps, Kitchen 2 Kitchen Shredded Cheddar Cheese and Ever Eco Reusable Silicone Baking Mats, Set of 2 from the Dinner Twist Marketplace.

Meaty Eyeballs
Ingredients :

makes 4
1 tub cream cheese
olives of choice (we used pitted Sicilian olives)
red capsicum
100g prosciutto
Method
Roll 2 tablespoonfuls of cream cheese into balls. Use a 1/2 teaspoon (or melon baller) to carve out space for the olive.
Halve olives and press into cream cheese. Dice capsicum and press into olive for red pupils.
Pull prosciutto into strips. Wrap around cream cheese eyeballs for a gross meaty effect. Refrigerate until serving.
Cooking notes:

switch prosciutto for ham or salami if preferred.
we used Sicilian olives and added diced red capsicum, you could use capsicum-stuffed olives and save yourself a step.
Want to make this at home? We used Philadelphia Spreadable Cream Cheese, Deli Select Pitted Sicilian Olives, and Skara Artisan Mediterranean Prosciutto from the Dinner Twist Marketplace.


Frankenstein's Monster (Kiwi Fruits!)
Ingredients :

make 4
3 kiwi fruit
50g melted chocolate (milk or dark)
pretzel sticks
candy eyes
Method
Use a small knife or vegetable peeler to peel away kiwi skin from about ⅔ of the bottom of the kiwis. Halve kiwi to create 2 "heads" with hairy crowns.
Pipe melted chocolate to make a line for a mouth and a little scar on his face. Pipe two dots of chocolate to act as glue, then stick on eyes.
Break apart pretzel sticks and jam into either side of the heads to look like bolts.

Dragon's Eggs
Ingredients :

make 12
6-pack free-range eggs
1 avocado
2 tbsp mayonnaise
Method
Bring a saucepan of water to a boil. Add eggs and boil for 8 minutes. Use a slotted spoon to remove eggs from saucepan and cool immediately under cold, running water.
Remove shells and halve eggs. Gently remove yolks from whites and add to a bowl.
Roughly chop avocado. Add to yolks along with mayonnaise. Use a fork to mash to combine well. Season to taste with salt and pepper.
Spoon yolk and avocado mixture back into egg whites.
Cooking notes:

boil the eggs for 8-10 minutes to ensure firm yolks.
for an extra spooky effect, gently crack the eggshells of the boiled eggs. Add to a bowl with water and a few drops of food colour of choice. Soak for 3-4 hours or overnight then remove shells and see the results!