Spoil Dad this Father's day with a show-stopping platter of sticky ribs!
Battle through the mouthwatering aroma as they cook, and your patience will be rewarded with a delicious "fall of the bone" finish!
We have used Asian inspired flavours, however, there are many different combination of sauces from the Marketplace you could use instead (see below)!
Ingredients:
1 kg pork spare ribs
1/2 cup hoisin sauce
1/2 cup tomato sauce
1/4 cup sambal oelek (or hot sauce)
3 crushed garlic cloves
fresh coriander and chilli to garnish
You will also need a shallow oven dish and aluminium foil.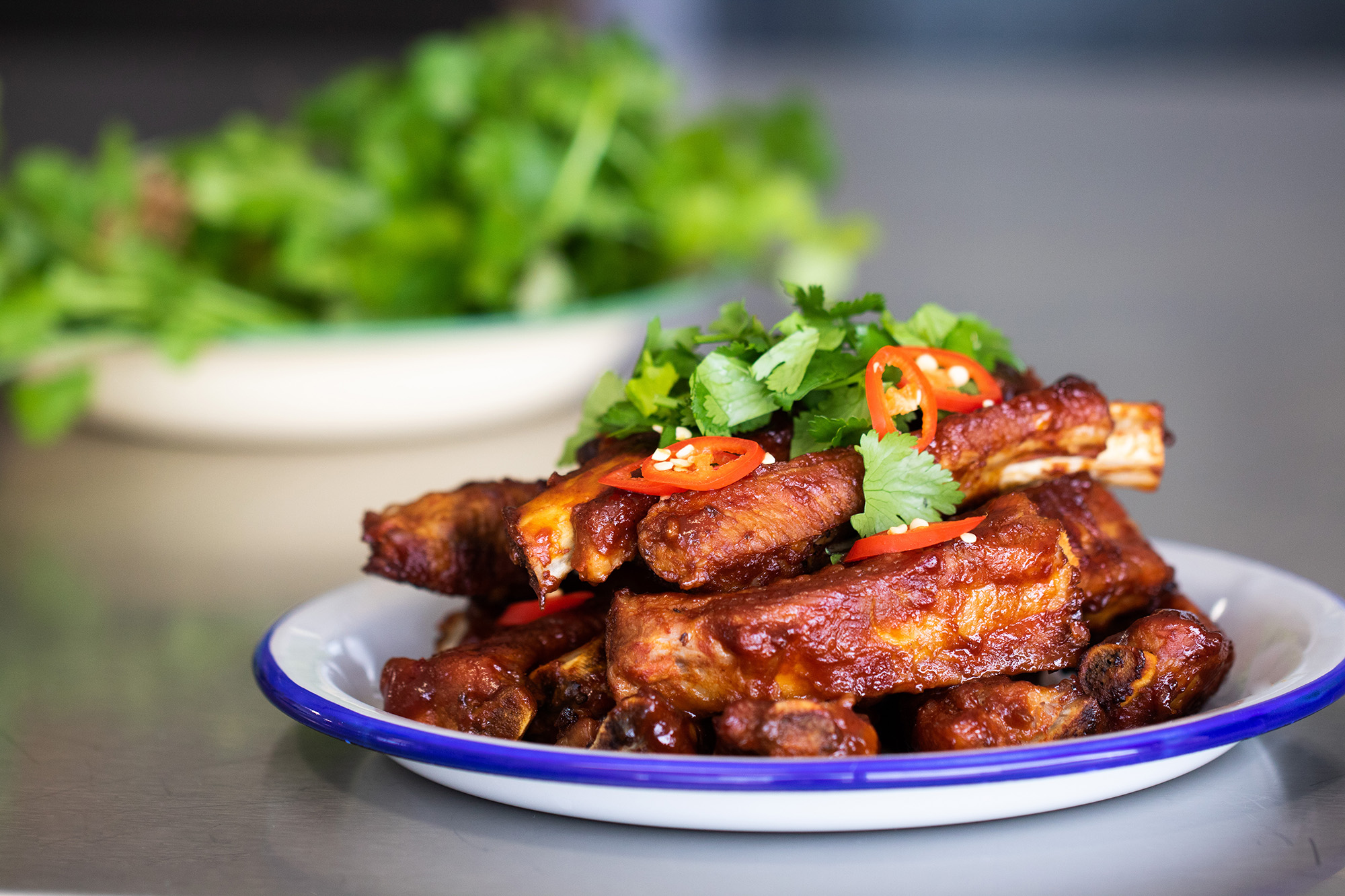 Method:
Preheat oven to 160ºC.
Toss pork ribs with sauces and crushed garlic until coated.
Spread a sheet of foil over a shallow oven dish. Place ribs on top. Tear a second sheet to make a lid and seal the edges.
Place in oven to bake for 2 hours or until tender. Baste with extra hoisin sauce.
Garnish ribs with fresh chopped coriander and chilli before serving.
Want to make this at home? We used Undivided Food Co Good Sauce Tomato Ketchup and garlic from the Dinner Twist Marketplace.
For a more traditional BBQ flavour use:
3/4 cup BBQ sauce (Barkers Nine Spice BBQ Jerk Sauce)
3/4 cup tomato sauce (Beerenberg Tomato Sauce)
3 crushed garlic cloves
For a sweet teriyaki flavour use:
3/4 cup teriyaki sauce (Kikkoman Teriyaki Sauce)
1/4 cup honey (Wafra Seasonal Runny Honey)
1/4 cup BBQ sauce (Barkers Nine Spice BBQ Jerk Sauce)
Garnish with sesame seeds
For a sweet chilli flavour use:
1 jar Mango chutney (Rozas Gourmet Mango, Chilli & Coconut Chutney)
2 tbsp soy sauce
1 tbsp sambal oelek