Christmas is just around the corner which only means one thing… Ample amounts of FOOD, GLORIOUS FOOD! It is also a time to share the love with family and friends, show your appreciation and send best wishes for the new year ahead.
Here at Dinner Twist we know a thing or two about good food and that the way to most people's heart is through food. If you're not one of those people, then I'm sorry, but we just can't be your friend (kidding, we still love you).
This years Christmas box is finger licking good. Please welcome the Dinner Twist E.L.F - Entertainment. Life. Food! We've created this box keeping all ages in mind, there is something for everyone! Filled with an abundance of deliciousness including creamy cheeses from Blue Cow, a flavoursome smallgood from Holy smoke, gluten free charcoal crackers from Fraswaller, as well as fresh fruit and vegetables and an array of other high quality grazing goodies from suppliers such as The Olive Branch, Sublime Spices and Southern Forest. It's bound to test anyone's willpower!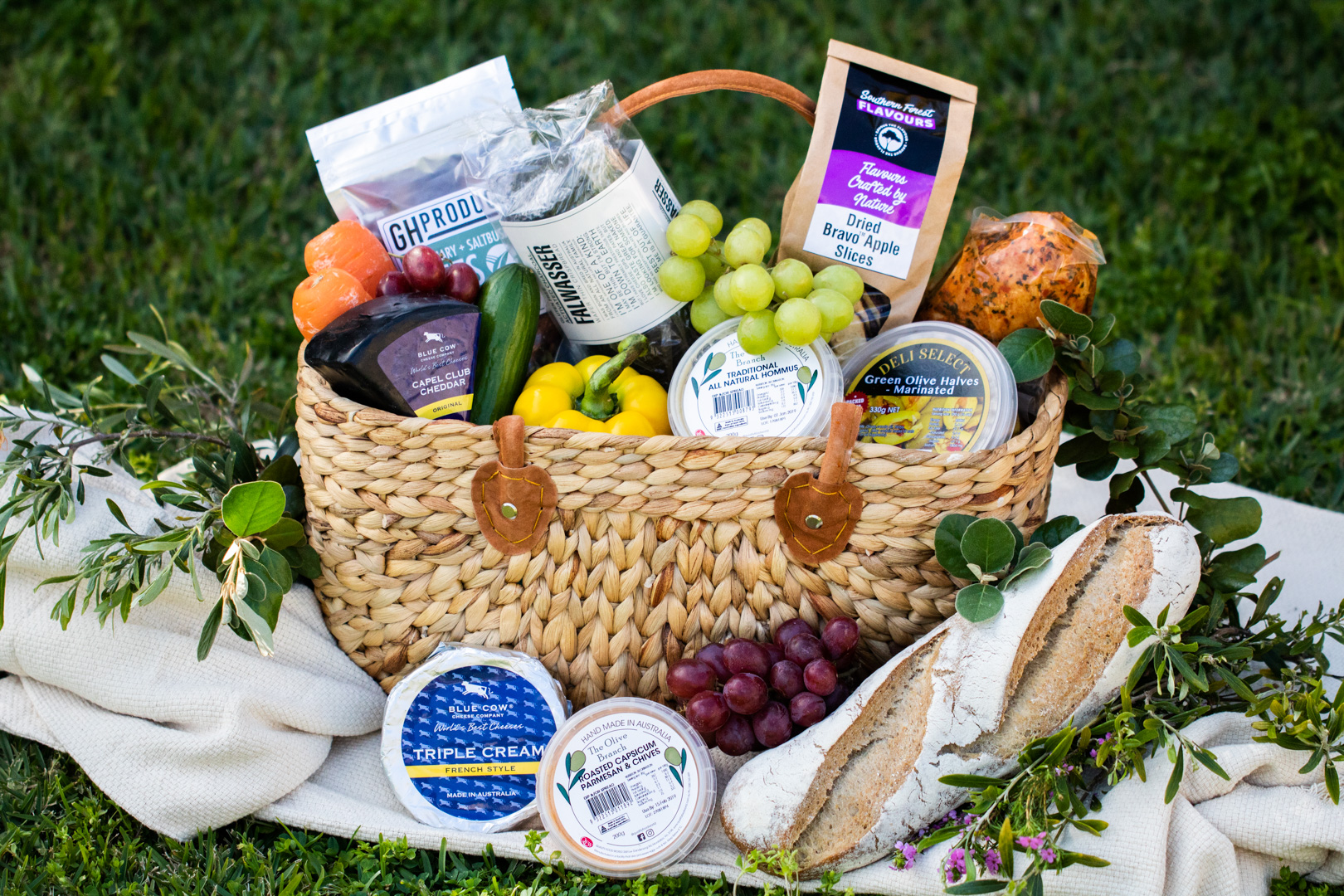 Not only is this box a fabulous addition to your table this Christmas, it is also perfect for gifting. Whether it be a secret santa, a special teacher, corporate Christmas lunch or a beloved friend or family member, it's a gift sure to put smiles on faces! Want to add a little personal message? Simply send us what you'd like the card to read and we will attach a handwritten touch of love (we'll even let you take all the credit for it)! Also, did you know we deliver regionally? Just because you're heading on an adventure during Christmas doesn't mean you can't take a delicious spread with you! No matter the reason, the E.L.F is the perfect treat for anyone this Christmas!
It's also fantastic for upcoming summer barbeques during the silly season. Picture yourself unveiling your scrumptious box, laying out all the goodies on the table at a friends gathering or family picnic for all to enjoy. It will be a crowd pleaser and we guarantee you'll be the first on the invite list for future celebrations (not that you wouldn't be already of course). Pair it with a fresh and fruity non-alcoholic sangria and you've got yourself a match made in heaven (recipe coming to our blog page soon - keep your eyes peeled closer to Christmas time).
Are you looking for the perfect ham to add to your already delicious Christmas feast? We will also be offering the option to add a Black Label, Berkshire leg of ham to your cart. It will come with an amazing, flavour packed spicy mango chutney from Goan Cuisine, along with fresh oranges to glaze. What more could you ask for!? Coming soon to the Dinner Twist website!
So, if you're looking to be everyone's favourite this Christmas, you can get yourself a (not so) little E.L.F for just $115! Register your expression of interest to hello@dinnertwist.com.au, with orders to be live soon on our website! See below for what is in our delicious box and delivery dates.
WEEK OF:
10th December (Your regular pick up/delivery day)
17th December (Your regular pick up/delivery day)
24th of December (Monday only - both pick up and delivery available)
31st of December (Monday only - both pick up and delivery available)
Pick up at both Canning Vale and South Fremantle warehouse is still available for those who prefer to pick up their boxes.
FEATURING...
Triple Cream Brie by BLUE COW
Caple Club Cheddar by BLUE COW
Charcoal GF crackers by FALWASSER
Wholemeal sourdough loaf by ABHIS BREAD
Dried bravo apples by SOUTHERN FOREST.
PORTUGUESE SMOKED CHICKEN BREAST by holy smoke
HUMMUS by the olive branch
CAPSICUM, PARMESAN AND CHIVES dip by the olive branch
ROSEMARY & SALT BUSH NUT MIX by GH produce
GREEN OLIVES by deli select
And fresh local grapes and veggies.