Baked to crispy perfection, these are bound to be a hit with the kids or at your next dinner party. They're quick and simple. A perfect go-to any time of the week!
INGREDIENTS:
1-2 bunches of fresh asparagus
1 cup Panko crumbs
1/2 cup grated parmesan cheese
1/4 cup flour of choice
2 large eggs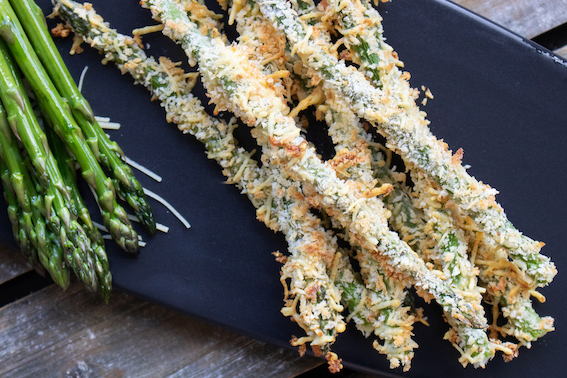 METHOD:
1. Pre-heat oven to 220 degrees. Line an oven tray with baking paper.
2. Trim asparagus. On a large plate, mix together the Panko crumbs and parmesan. Season with salt and pepper to taste.
3. Whisk the eggs then place into a shallow bowl or plate. Spread flour out onto a large plate.
4. Drizzle asparagus with olive oil and toss until coated.
5. Working one a time or in batches, begin coating asparagus with flour, dip into eggs, then coat in Panko mixture. Pressing down to ensure sticking.
6. Place asparagus onto prepared baking tray. Place in oven for 10-13 minutes, or until golden and crispy.
7. Serve immediately and enjoy!