Say hello to your new favourite dessert!
Chai poached pears with whipped cinnamon labneh and rosemary saltbush nuts — sounds great, and tastes even better!
This treat goes perfectly with chilly autumn or winter weather, a warm cup of tea or coffee (or mulled wine!), and your best friends.
When served up, the pears look decadent enough to be from a fancy restaurant, but don't worry; they're surprisingly simple to prepare at home.
Serves 4-5.
Ingredients from the Marketplace:
1 kg bosc pears

20 grams spiced chai latter powder (Infused Tea Company, WA)

1 tub labneh cheese (The Cheese Board)

1 packet rosemary & saltbush nuts (GH Produce, WA)

4 tbsp honey (or maple syrup/brown sugar)
Ingredients from your pantry:
1/2 tsp ground cinnamon (or ginger/pumpkin spice/cloves)

1/2 tsp vanilla paste (optional)

1 L water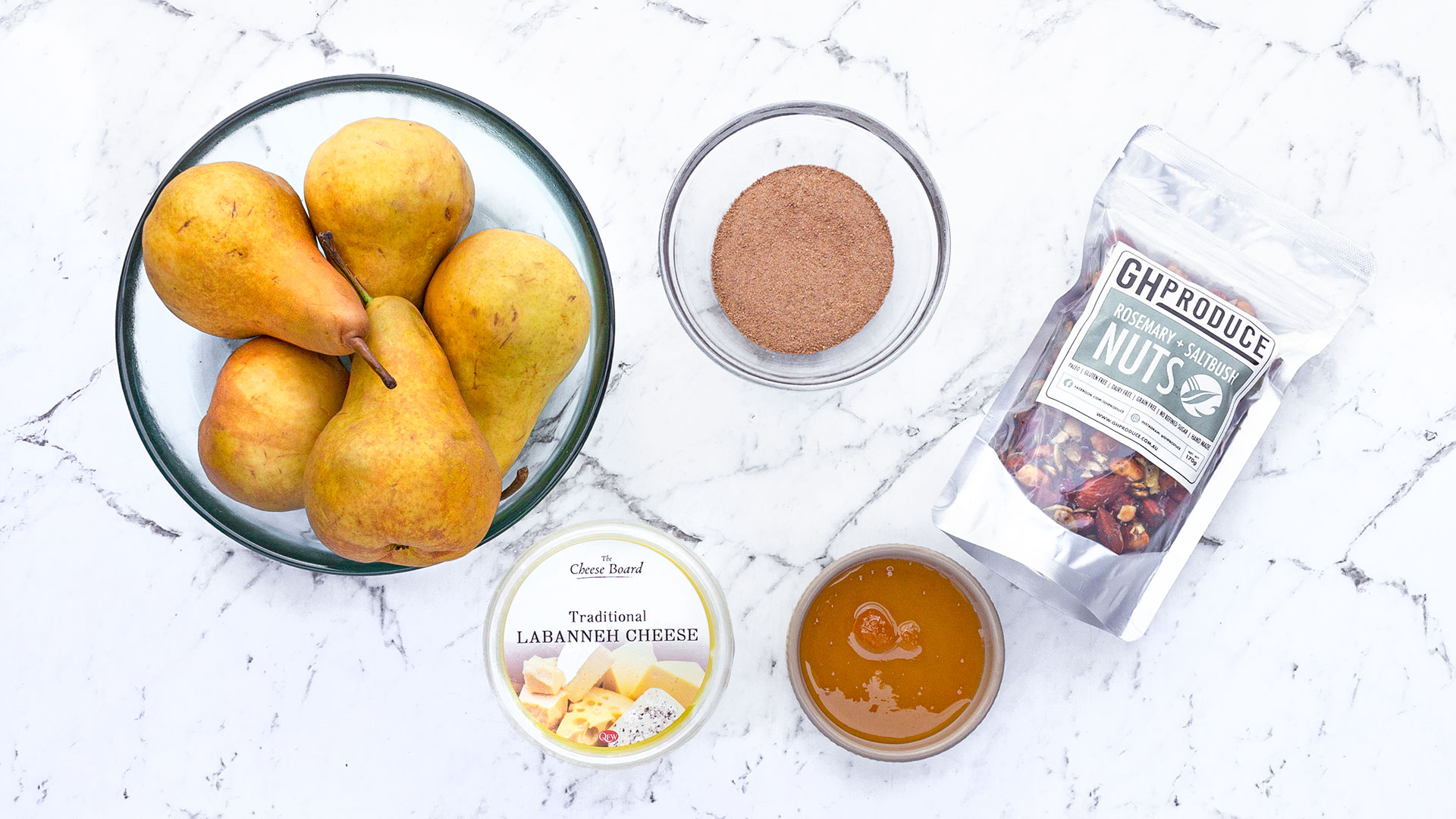 Method:
Bring 1 L water to the boil in a saucepan and add 3 tbsp honey/syrup/sugar and the chai powder. Leave to simmer while you complete step 2.

Peel the pears and scoop out the core from the bottom. Leave the stems. Add to the saucepan in a single layer so they're covered as much as possible by the liquid.

Simmer the pears for 10 minutes, then turn around to submerge the top side. Simmer for a further 10 minutes. Check if the pears are tender — if not, simmer for 5-10 more minutes.

While the pears are poaching, whisk together drained labneh cheese, 1/2 tsp cinnamon, and 1 tbsp honey until well mixed and creamy.

Remove the pears from the saucepan and keep them aside. Keep boiling the chai liquid for another 20-30 minutes, until reduced to around 200mL.

To serve, spread a little whipped labneh onto a dessert plate, arrange a poached pear on top, drizzle with chai reduction and sprinkle with roughly chopped rosemary saltbush nuts.