What do we think of when it comes to Christmas dinner? A delicious, home-cooked spread featuring family favourite dishes that have become a tradition over the years. Stress-free, fun to create and a little indulgent - it is Christmas after all!
Get excited, because this year everything you need for full Christmas dinner (or lunch!) is available on the Marketplace! This means you can get the best quality ingredients delivered to your door on Christmas Eve, avoiding the shops altogether.
Need some festive dinner inspo?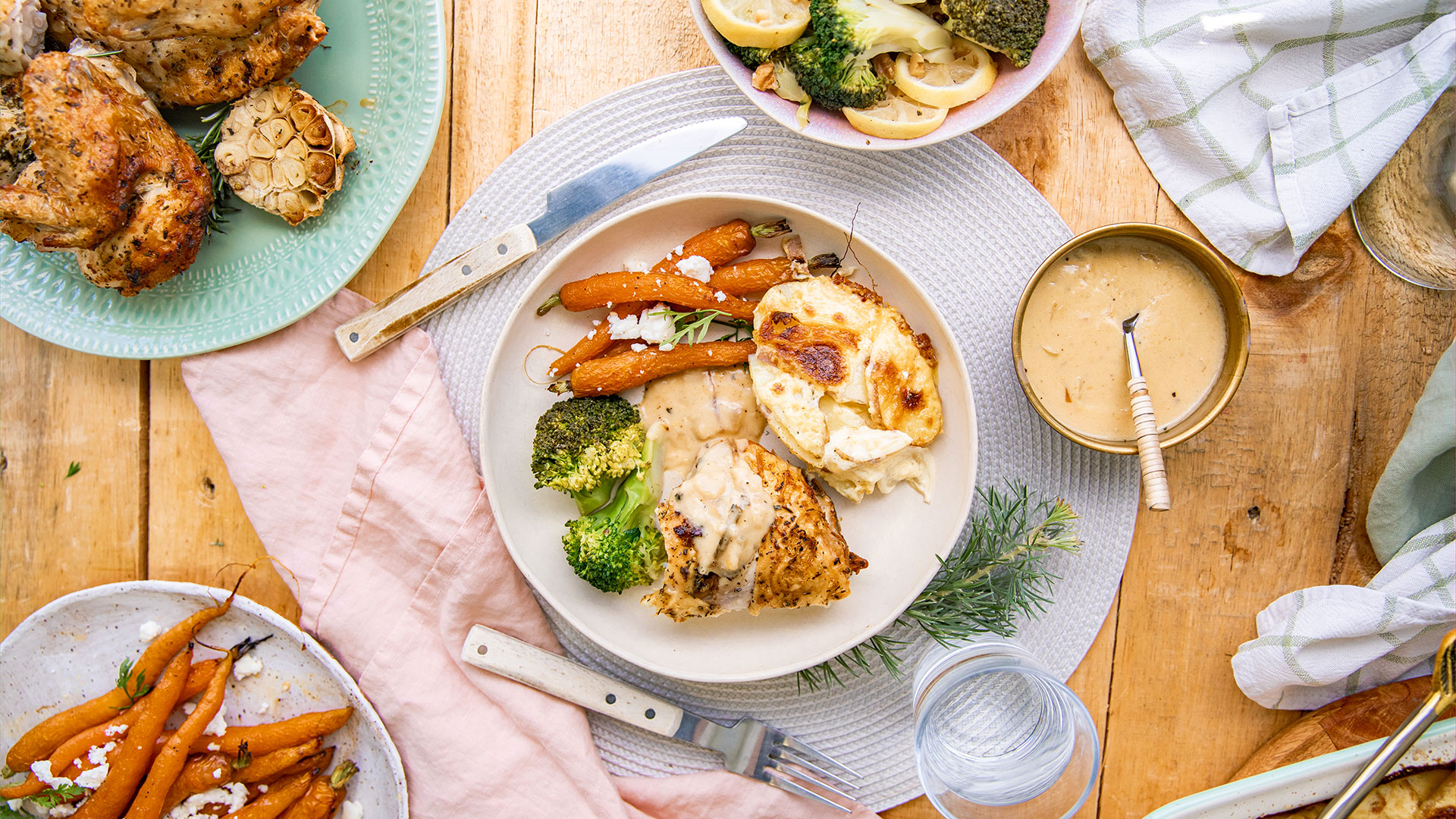 We have designed this menu using the simplest of ingredients, so it's easy for you to add your own traditional Christmas twist if needed. Otherwise, if you cook these dishes in order of the recipe below, you can have a full spread ready to feast on within the hour!
To make things even easier, we have bundled together all the produce you will need (all available on the Marketplace) as well as an optional add-on shopping list for the extras you can get to complete the meal.
Shopping List
Makes 4-6 serves.
1 Twistmas Dinner Meal Bundle containing:
1.5kg Liberty Chicken split free-range chicken
1 garlic bulb
1 lemon
2 red onions
1.2kg potatoes
600ml Bannister Downs fresh free-range cream
1 packet (200g) Kitchen2Kitchen Shredded Cheddar Cheese
1 bunch Dutch carrots
1 sachet of raw honey
1 tub (350g) Naked Food Co natural Aussie feta
1 broccoli
1 jar of Urban Forager chicken stock paste
Optional extras to complete the meal:
Murray River salt flakes, 150g
Regans Ridge organic olive oil, 500ml
Organic Times organic salted butter, 250g
Traditional Roast Chicken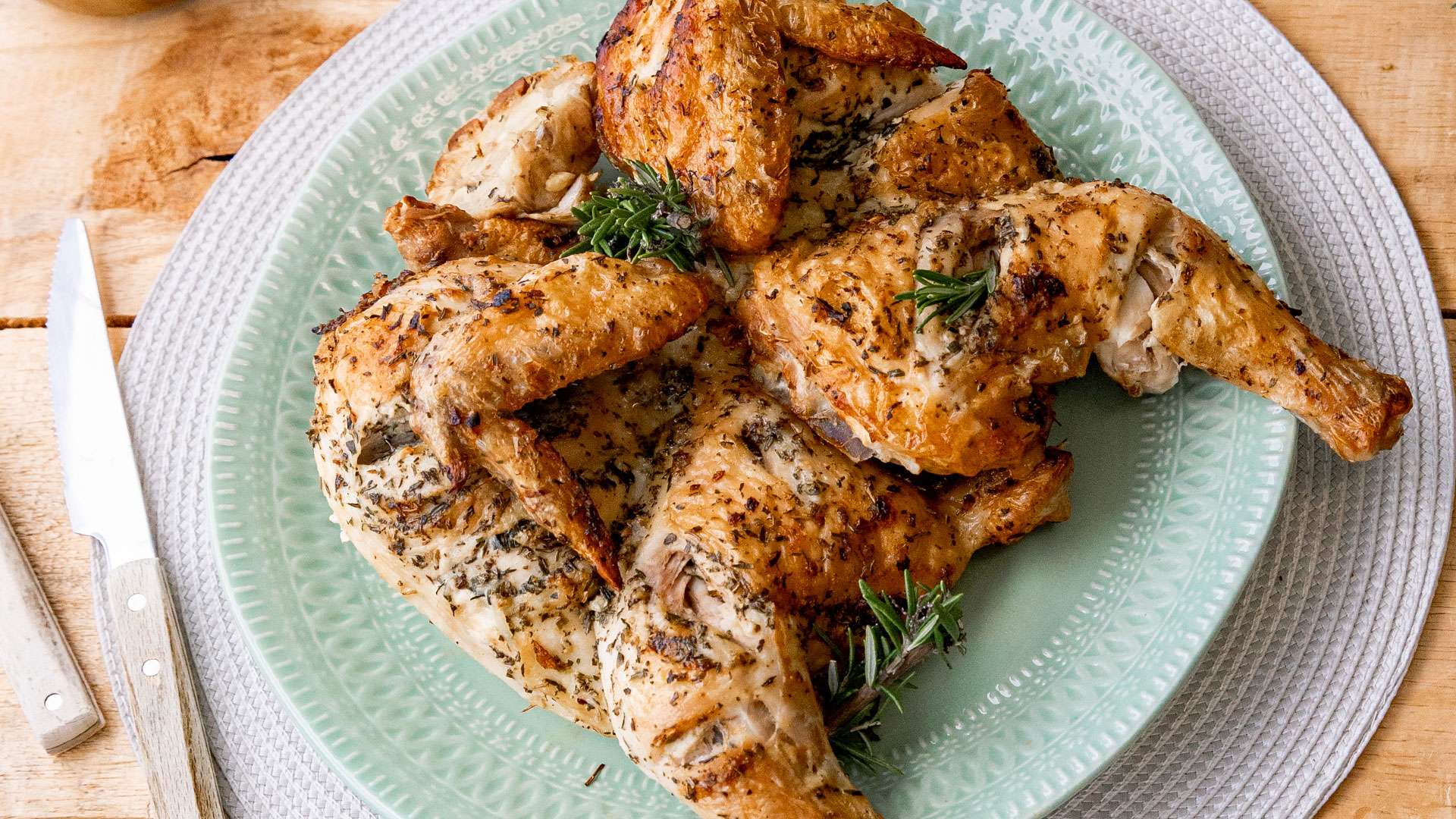 What you need:
1.5kg split chicken
1 garlic bulb
1 red onion
2 tsp dried herb of choice (we used a mix of dried tarragon and sage)
zest from 1 lemon (reserve the rest of the lemon for the broccoli)
Method:
Preheat oven to 220ºC.
Cut garlic bulb in half horizontally (reserve 2 cloves). Thinly slice the onion. Place at the bottom of a lined roasting tray and drizzle with olive oil.
Crush the 2 garlic cloves and combine with lemon zest, 2 tbsp olive oil, 2 tsp dried herb of choice, salt and pepper.
Slash chicken to the bone and rub herb oil over to coat. Place on top of onions and garlic.
Roast in the oven for 40-45 minutes until cooked through.
Tips:
You could substitute the chicken with salmon or rack of lamb.
Fresh rosemary, oregano, thyme or sage as well as the dried versions can be used for the rub.
Creamy Potato Bake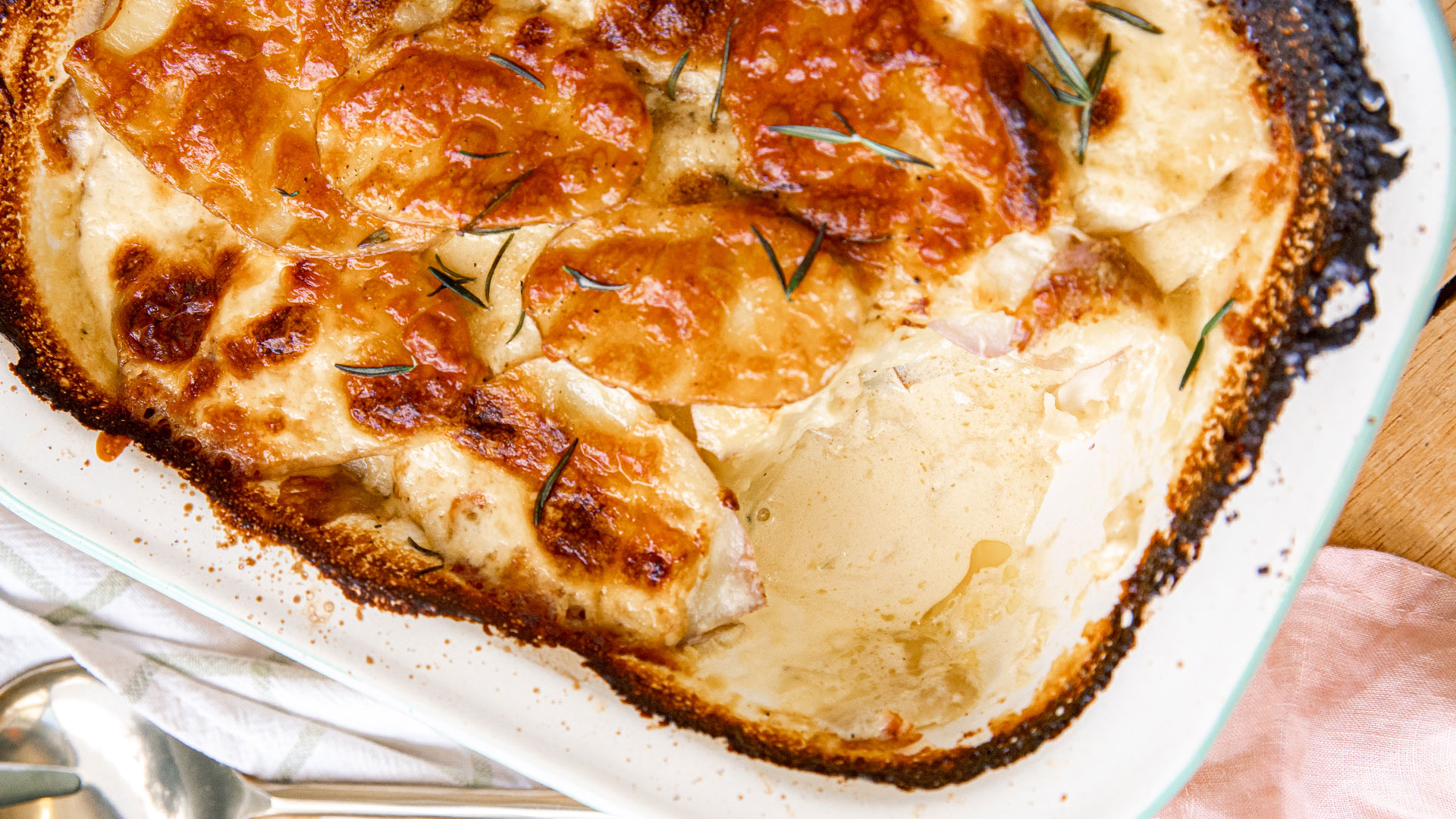 What you need:
1.2kg potatoes
1 red onion
600ml fresh cream
200g grated cheddar cheese
Method:
Thinly slice potatoes and onion. Toss together in an oven dish with salt and pepper.
Pour cream over potatoes and sprinkle over the grated cheese.
Cover and bake for 30-35 minutes until potatoes are tender. Remove cover and bake for 5-10 minutes until cheese is bubbly.
Tips:
For a plant-based version, you can use nut milk and a nut cheese. We love Nutty Bruce Almond Milk and Noshing Naturally's Havarti with Jalapeno & Chipotle available on the Marketplace.
Add a little sprinkle of nutmeg or fresh rosemary for added flavour.
A mandolin or a food processor with slicing attachment makes this dish even speedier. If you are hand cutting the vegetables you may need to adjust the timing according to the thickness of the potatoes.
Honey Dutch Carrots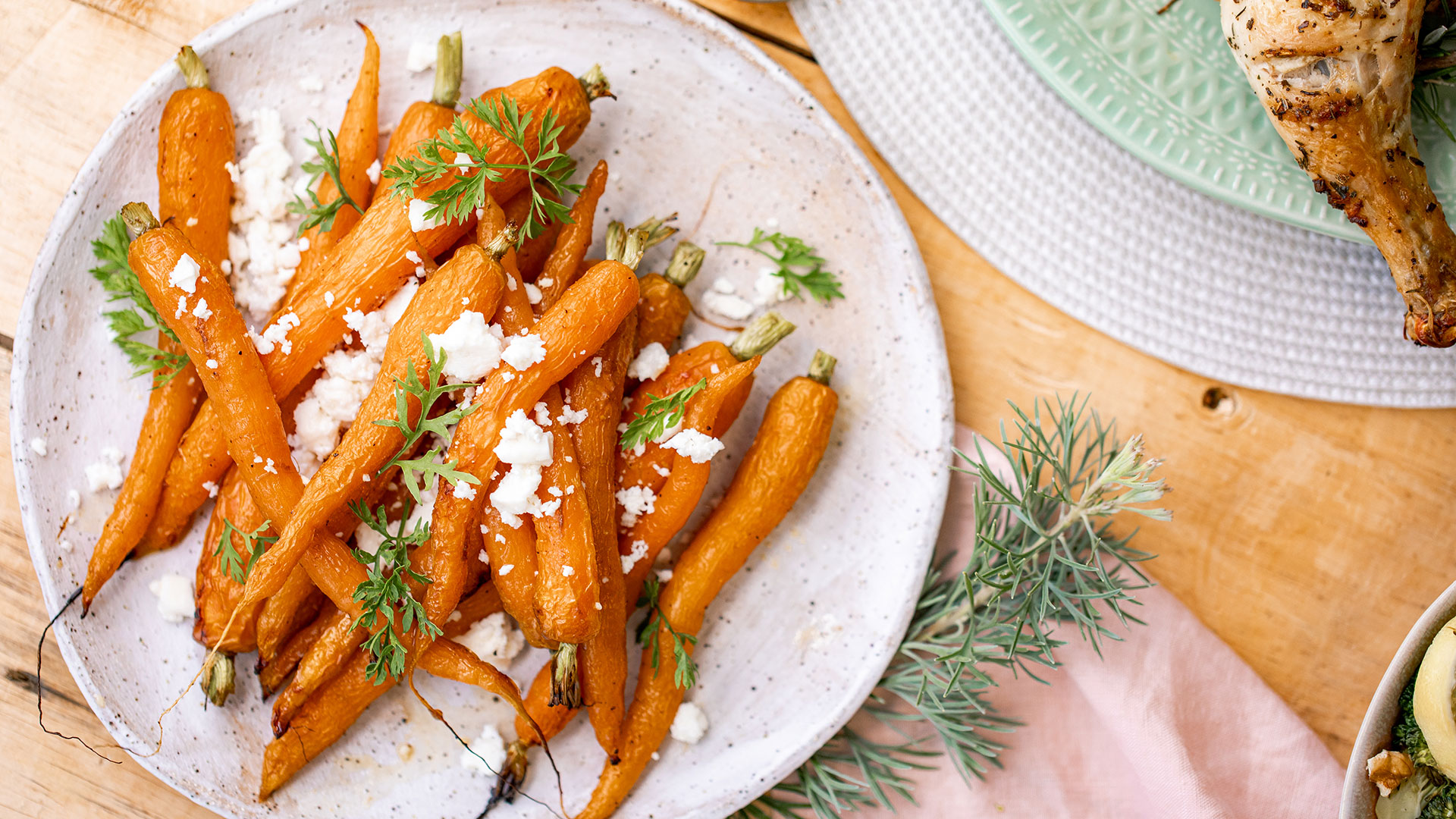 What you need:
1 bunch Dutch carrots
1 sachet of raw honey
feta cheese (use to taste)
Method:
Trim and scrub carrots. Toss with 1 tbsp honey, 1 tbsp oil, salt and pepper.
Take out oven tray with the chicken and place carrots on the tray. Return to the oven and roast for 20 minutes until tender and cooked through.
Arrange carrots on a serving plate. Crumble over feta cheese.
Tips:
The feta cheese adds a nice saltiness that balances out the sweetness of the honey. Alternatively, you can save the carrot tops and blend together with some lemon juice and olive oil to make a fresh salsa sauce to go on top!
Use maple syrup instead of honey for a plant-based version
Lemon Broccoli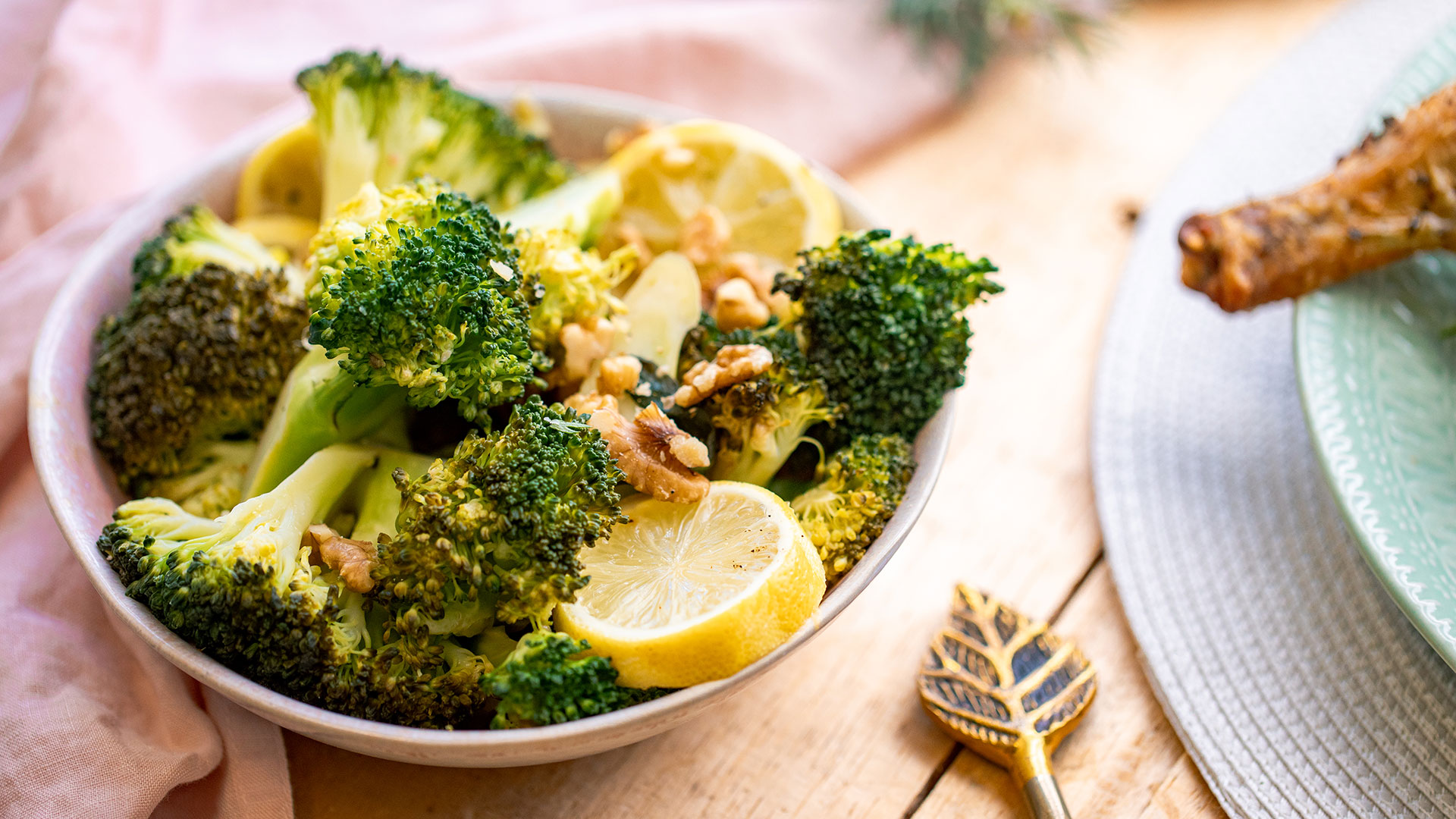 What you need:
Method:
Cut broccoli into small florets. Slice lemon (same lemon that was zested for the chicken).
Add to a frypan over medium heat with 2 tbsp water. Cover and cook for 5 minutes until tender.
Remove to a serving bowl and toss with 1 tbsp olive oil or butter. Season with salt and pepper.
Tips:
Add any chopped nuts such as walnuts or almonds on top for extra crunch.
Onion Gravy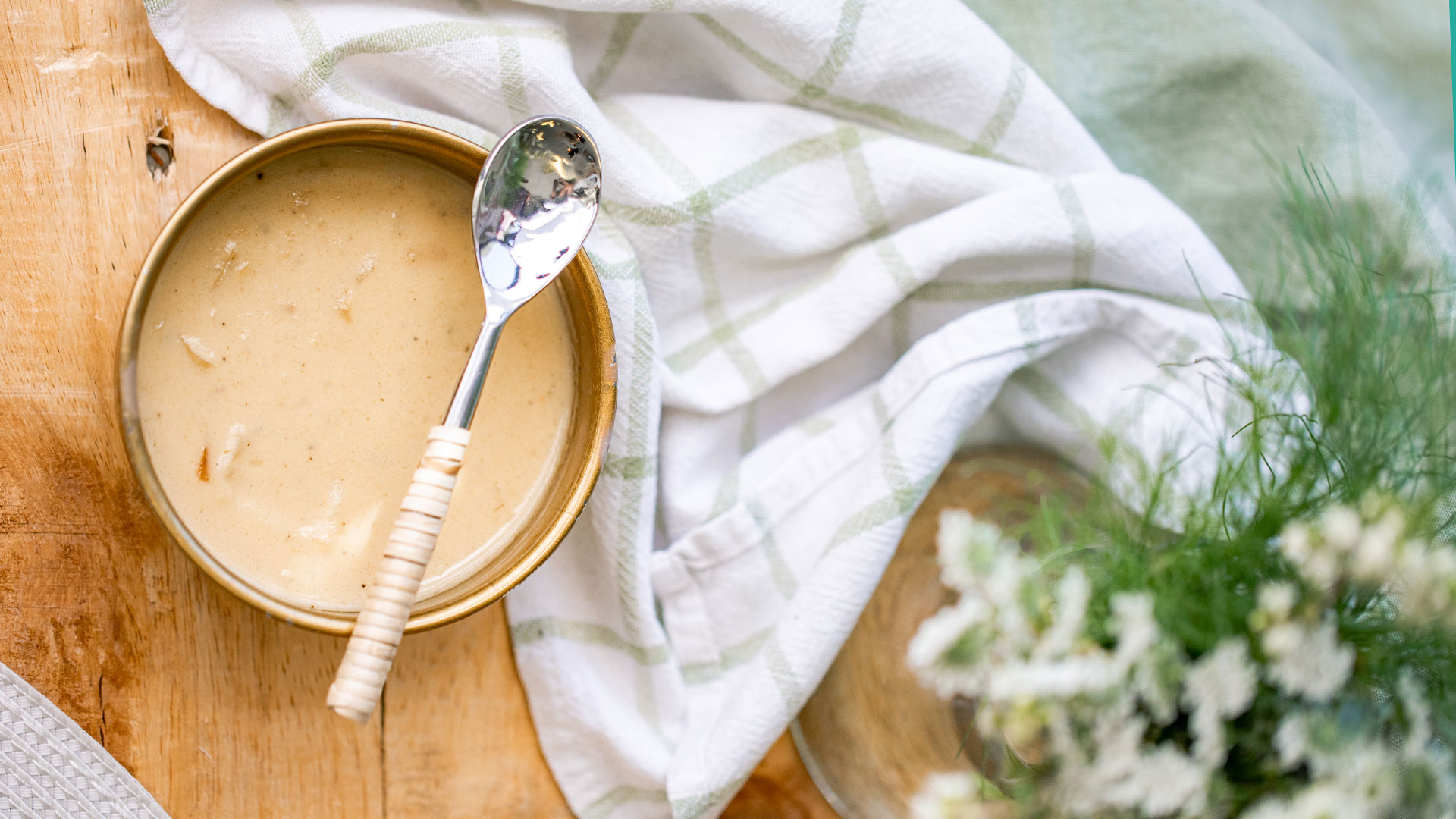 What you need:
1 tbsp flour (of choice)
1/2 jar chicken stock paste
Method:
After the chicken is cooked, remove the onion from the roasting tray and add to a frypan over medium heat.
Stir in 1 tbsp flour and stock paste until the onions are coated.
Slowly pour in 1 1/2 cups water and whisk until combined. Increase heat to medium-high and simmer for 3-5 minutes until thickened.
Pour in resting juices from the chicken. Season with pepper.
Tips:
Use a flat whisk if you can to avoid any lumps in the gravy.
Squeeze out any soft garlic cloves from the roasting tray and add to the gravy if desired, otherwise, the cooked garlic is great with the roast vegetables.
Want to make this at home? Simply grab a Twistmas Dinner Kit (and any extras you'd like!) from the Dinner Twist Marketplace.