Wondering what delicious plant-based dishes to serve this Christmas? Get inspired with this festive, easy to make dinner spread!
We've got a sticky, spiced stuffed butternut pumpkin, using our favourite Veggie Paté from So Freo - perfect for the main. Served alongside are some golden roast potatoes with a slight Mediterranean twist using a burst of citrus and ground coriander. For the greens, grilled zucchini dotted with Noshing Naturally's creamy almond feta cheese.
Need some festive dinner inspo?
Everything you need to create this plant-based feast is available on the Marketplace, ready to be delivered to your door!
Shopping List
Makes 4-6 serves.
1 Plant-Based Twistmas Dinner Meal Bundle containing:
1 x butternut pumpkin
1 x red capsicum
1 lemon
2 red onions
1 x rosemary stalk
1.5kg potatoes
2 x zucchinis
60g walnuts
1 x Beerenberg Sticky Fig and Onion Chutney
1 x Noshing Naturally Persian Nut Feta Cheese
1 x So Freo Original Veggie Paté
Optional extras to complete the meal:
Murray River salt flakes, 150g
Regans Ridge organic olive oil, 500ml
Raw Food Factory Organic Maple Syrup, 189ml
Sticky Stuffed Butternut Pumpkin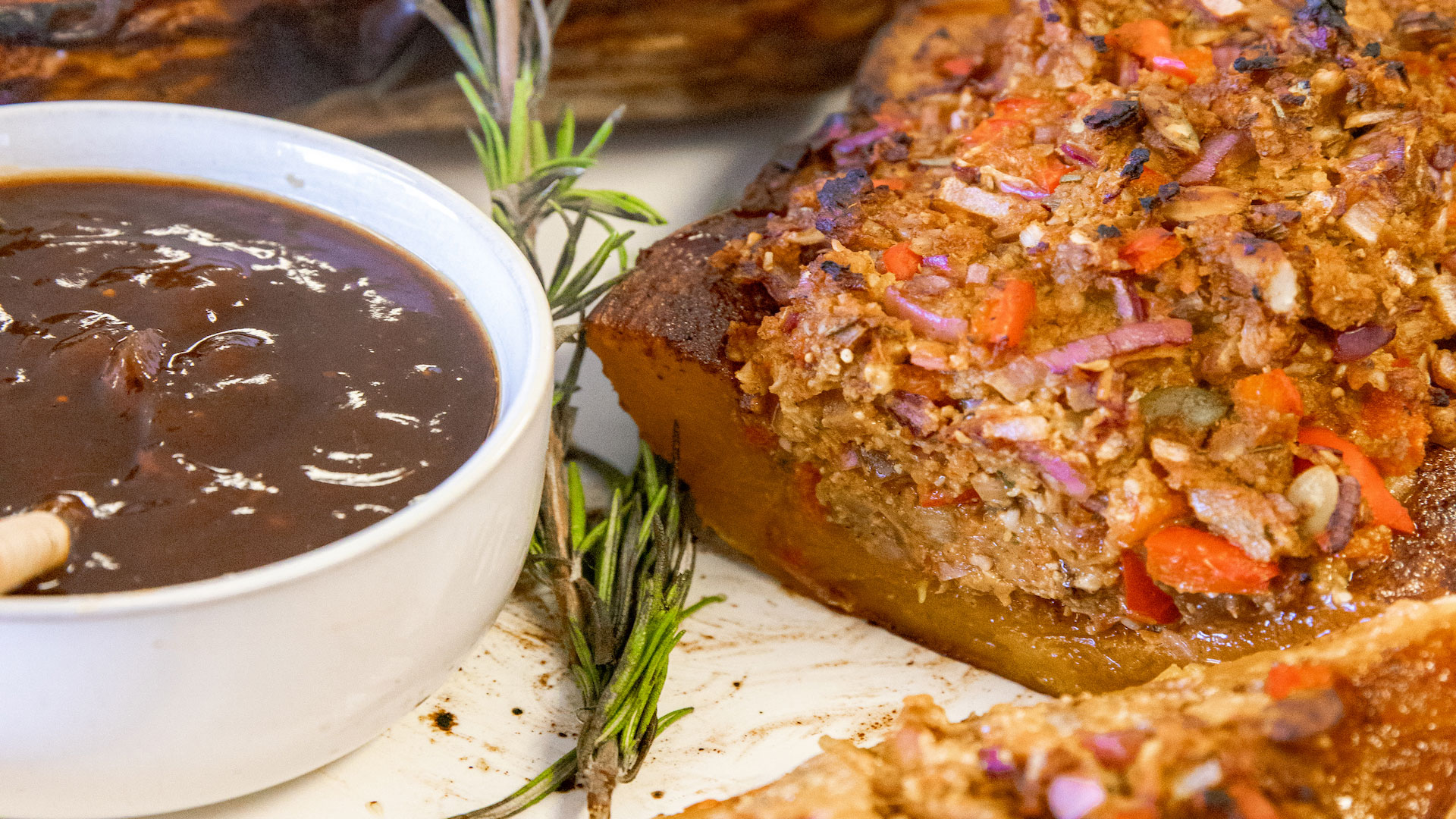 What you need:
1 butternut pumpkin
1/2 tsp ground cloves
1 tsp ground cinnamon
2 tsp maple syrup
2 tbsp olive oil
1 red capsicum
1 red onion
60g walnuts
1 rosemary stalk
1 packet Veggie Pate
1/4 cup Sticky Fig and Onion Chutney
Method:
Set oven to 220ºC.
Cut pumpkin in half lengthways and remove seeds. Use a sharp knife to score the cut side of the pumpkin.
Combine 1/2 tsp ground cloves, 1 tsp ground cinnamon, 2 tsp maple syrup, 2 tbsp olive oil, salt and pepper. Rub all over pumpkin halves and place on a lined oven tray. Roast in oven for 25 minutes.
Meanwhile, dice capsicum and onion. Chop walnuts and rosemary leaves. Place in a bowl, crumble in veggie paté and add 1/4 cup chutney. Mash with a fork to combine.
Remove pumpkin halves from oven (after the 25 minutes) and fill each side with stuffing. Return to oven for 15-25 minutes or until pumpkin is cooked through.
Tips:
This cook time is based on a 2kg size pumpkin. You may need to adjust the time according to the size of pumpkin you use. If you don't have ground cloves you could use ground nutmeg or ginger instead.
Lemon Roast Potatoes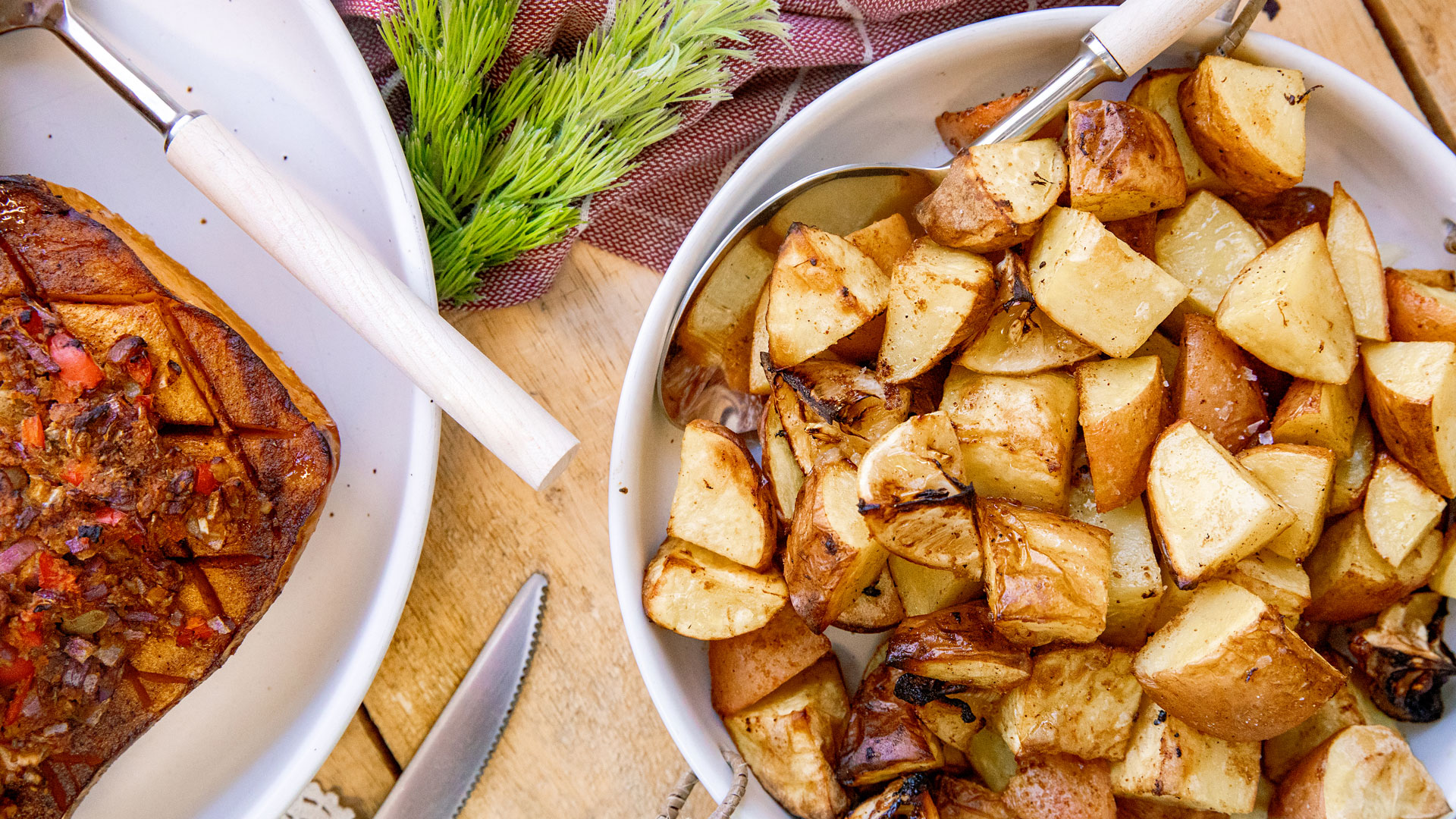 What you need:
1.5kg potatoes
1 lemon
1 tsp dried coriander
Method:
Dice potatoes and toss on a lined oven tray with oil, lemon zest, 1 tsp dried coriander, salt and pepper. Cut lemon into eighths, squeeze juice over potatoes and add the rinds to the oven tray.
Roast in the oven for 20-25 minutes until golden and cooked through.
Tips:
Roast the potatoes in the oven after you have prepared the stuffing. This way they will be ready at the same time as the finished pumpkin.
Grilled Zucchini Salad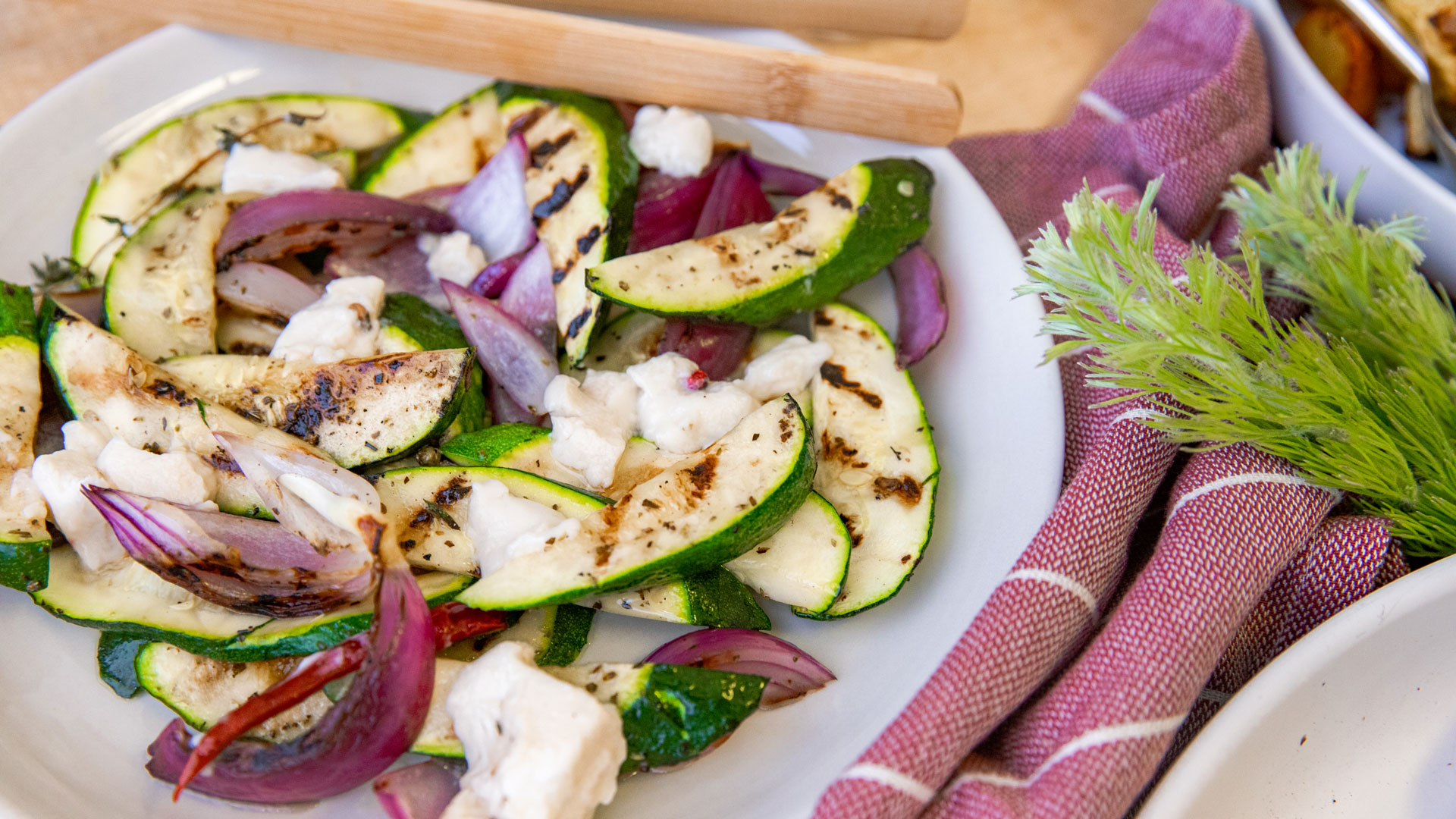 What you need:
2 zucchinis
1 red onion
2 tbsp olive oil
1 tsp dried oregano (or herb of choice)
1 jar Persian nut feta cheese
Method:
Slice zucchini and onion into crescents.
Toss in a bowl with 2 tbsp olive oil, 1 tsp dried oregano, salt and pepper.
Heat a griddle pan or BBQ over high heat. Cook vegetables for 2-3 minutes each side until charred.
Layer vegetables on a serving plate and dot over nut feta cheese.
Tips:
You could cook the vegetables on the BBQ or even in the oven with the potatoes if preferred! Finish the salad off with a drizzle of balsamic vinegar for added flavour.
Want to make this at home? Simply grab a Plant-Based Twistmas Dinner kit (and any extras you'd like!) from the Dinner Twist Marketplace.