Seasonal cooking with Autumn persimmons!
Sometimes referred to as the 'fruit of the gods', persimmons are prized for their bright colour and sweet flavour. While our savvy friends in parts of China, Japan and Korea have been harvesting persimmons for at least 1000 years, here in Australia, we are just finding the fruit more available at our local grocery stores. Persimmons have a bright orange peel and interior and look similar to a tomato. They can be eaten when both firm and soft. As a fruit, you would assume a sweet preparation, such as baking them in a pie, would be the way to go so we've created two savoury recipes for you to try.
Persimmon Salsa with Salmon Fillets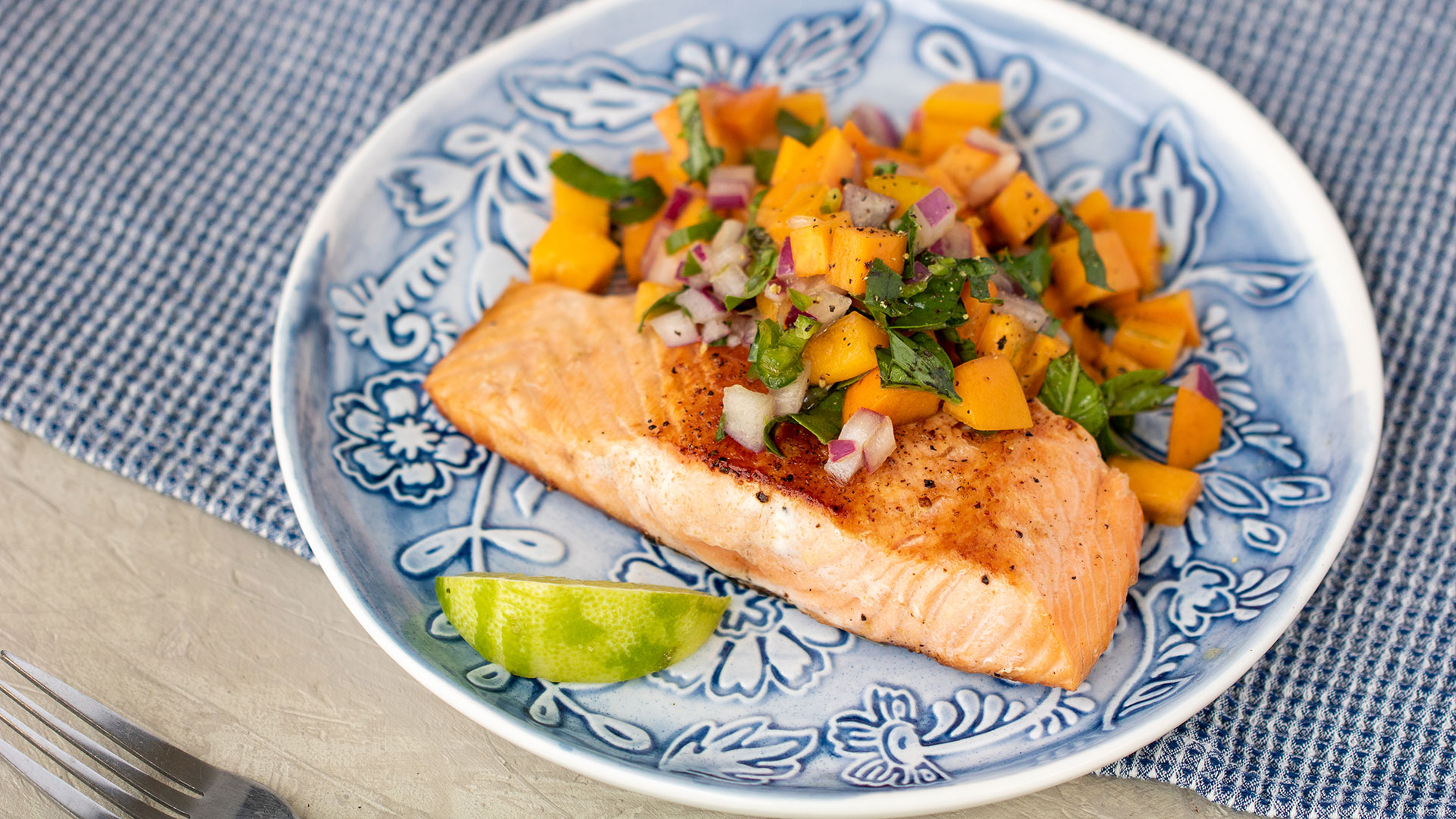 This salsa is very customisable. If you have a red onion, use 1/4 of that instead of going out to buy a shallot. Don't like coriander? No worries! Switch it for parsley, spring onion green tops, basil or mint. Jalape-no? Leave the chilli out if you are cooking for people who are a little sensitive to spice. This salsa also works beautifully with beef and white fish.
Ingredients, makes 4 serves:
1 shallot
1 jalapeño
1 lime
20g coriander
2 persimmons
4 salmon fillets
Method:
Dice the shallot and persimmons. Finely slice jalapeño. Roughly chop coriander (leaves and stems). Zest and juice lime. Add all to a bowl and toss to combine. Season with salt and pepper.

Heat a frypan over medium-high heat. Coat salmon fillets with oil, salt and pepper. Cook for 2-4 minutes each side (cook skin-side down first if your fillets have skin) or until cooked to your liking.

Serve salmon fillets on plates with persimmon salsa.
We used limes and Catalano's salmon fillets from the Dinner Twist Marketplace.
Persimmon and Candied Pecan Cheese Plate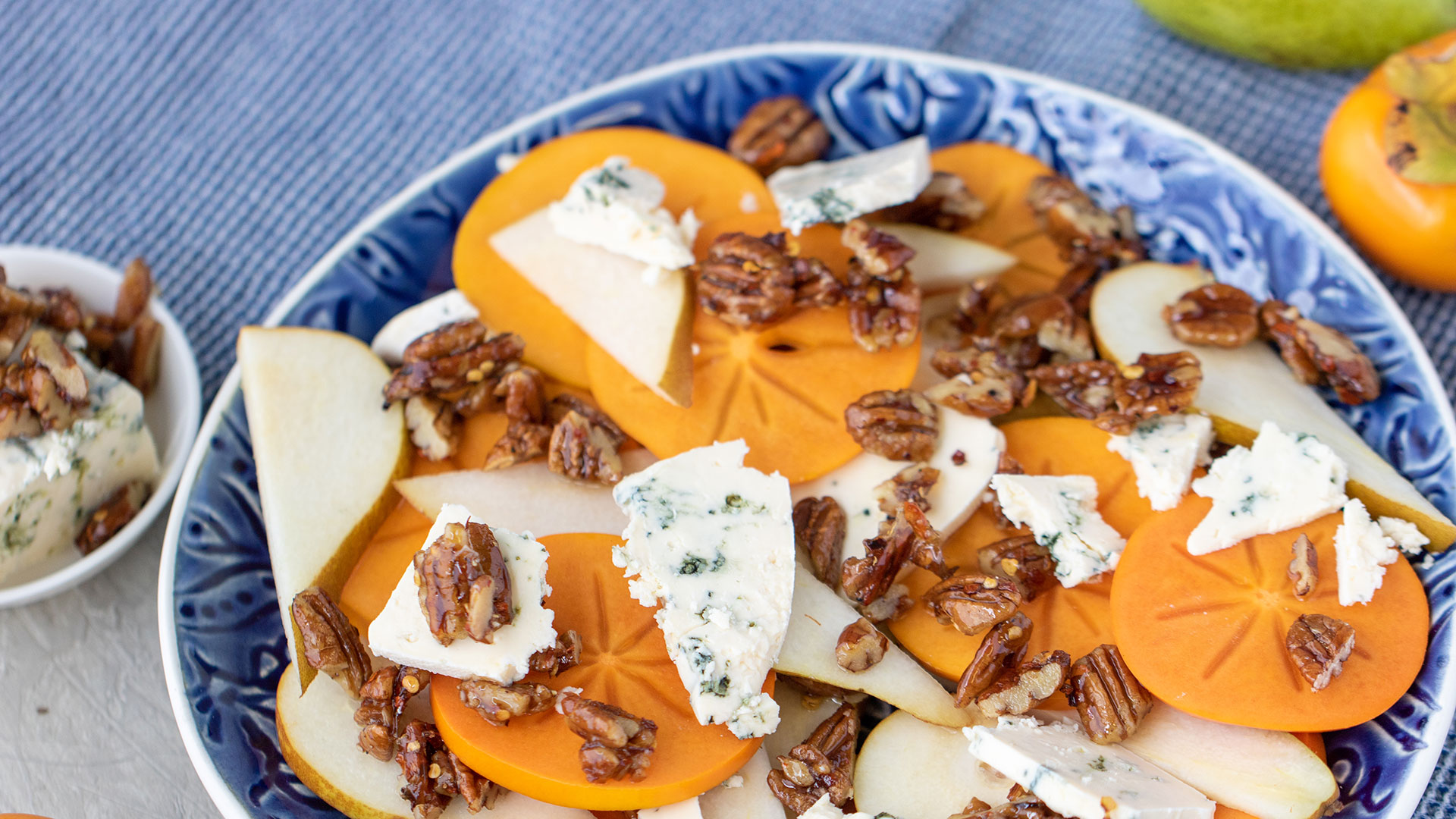 Beautiful fresh fruit, crunchy toasted pecans and sharp cheese. This dish is the perfect switch for a cheese platter. Serve it with crackers as a starter, or as a dessert to that friend who always tells you that they're not a dessert person. You don't have to use blue cheese if it's not for you, switch it for a sharp cheddar, parmesan or manchego.
Ingredients:
100g pecans
2 tbsp maple syrup
1 tsp chilli powder (optional)
2 pears
2 persimmons
1 tbsp white wine vinegar
100g firm blue cheese
Method:
Heat a frypan over medium heat. Add pecans, maple syrup and chilli powder. Cook, stirring occasionally, for 5-8 minutes until the mixture becomes white and foamy. Stir in 1 tbsp olive oil. Remove from heat and season with salt and pepper.

Scrape pecan mixture onto a plate or small oven tray lined with baking paper. Spread out evenly. Allow to cool then roughly chop.

Thinly slice pears and persimmon. Arrange on a platter. Drizzle over vinegar. Crumble blue cheese over (alternatively, slice the cheese and arrange slices on platter). Scatter pecans over the platter.