Take your yoghurt-game to new heights with the tasty yoghurt from Naked Food Co. They're WA-made and soooooo tasty!
Whether you're after a delicious effort-free brekky, an arvo pick-me-up or a past-dinner treat, we promise these tubs of delight will satisfy!
They're made in WA from farm-fresh fruit and local milk, so you can enjoy them while also supporting local business.
Keep scrolling to see how we've served up some of the Naked Food Co yoghurts and get inspired to create your own treats.
Black Cherry & Blueberries Yoghurt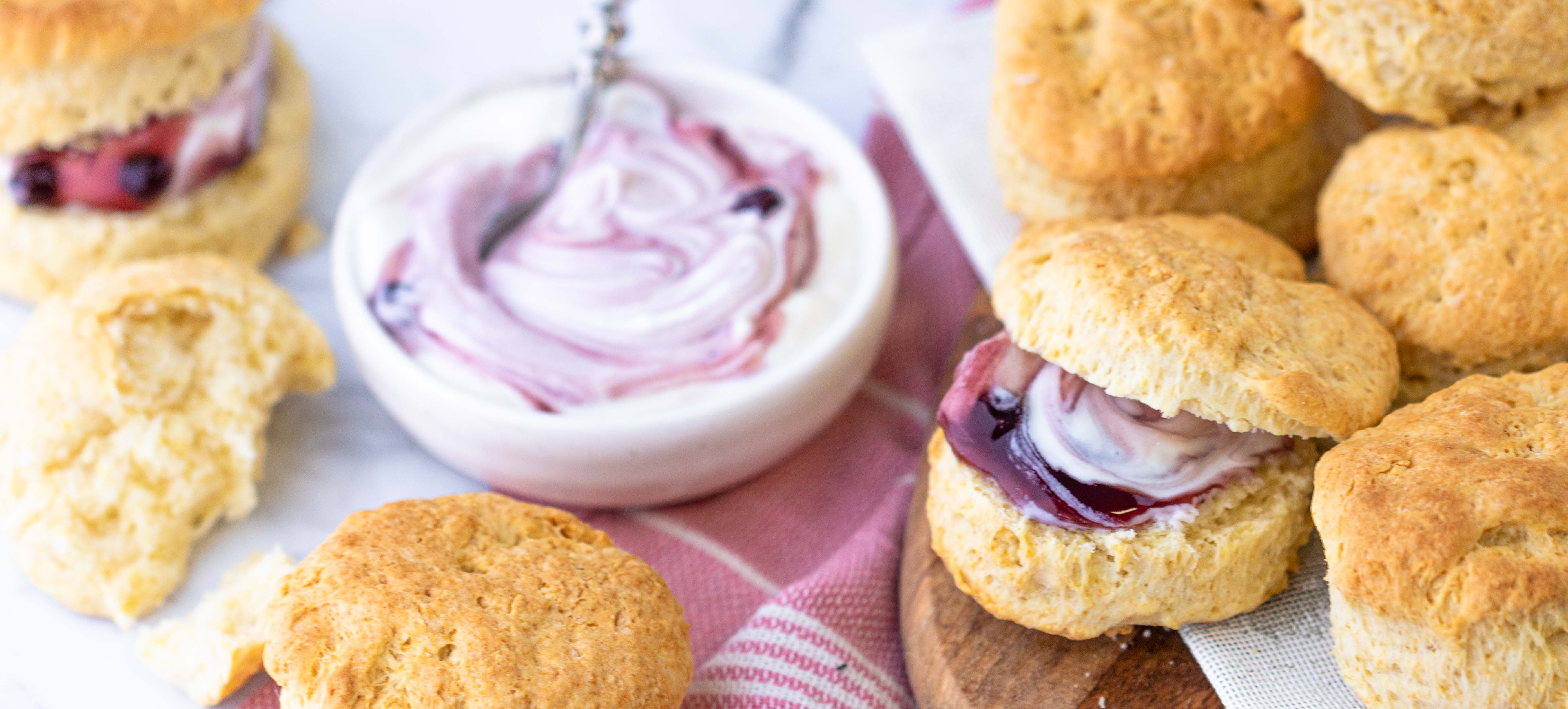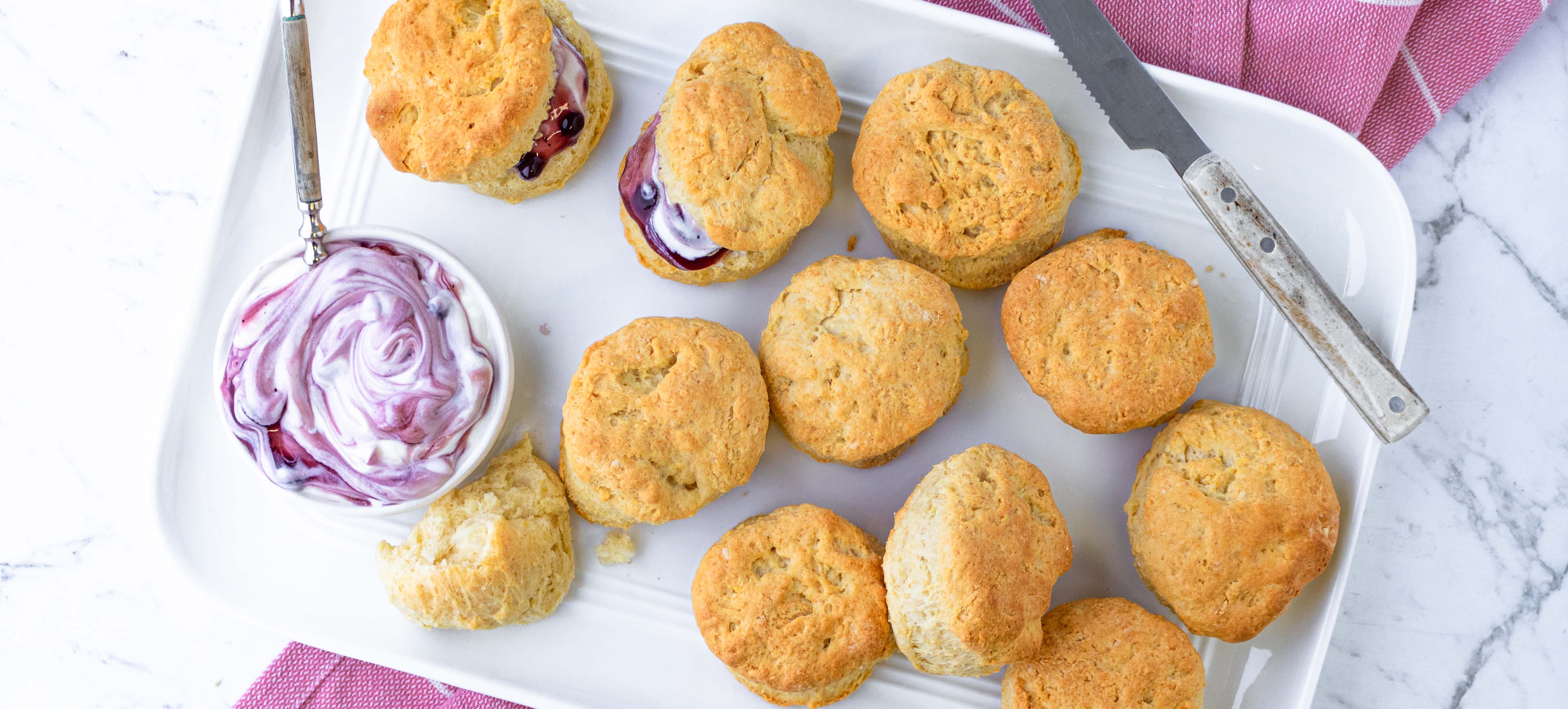 Homemade scones with black cherry & blueberries yoghurt
The I-can't-believe-how-creamy-it-is yoghurt and the oh-so-deliciously-sweet-and-tangy berry compote work well as a topping for homemade scones! After trying this, you'll forget all about the classic jam & whipped cream combo, just saying!
Ingredients:
1 tub of Naked Food Co black cherries & blueberry yoghurt
3 cups self-raising flour
80 grams softened, salted organic butter
1 1/4 cups full-cream free-range milk
Method:
Turn on your oven to 200°C
Sift flour into a bowl. Use your fingers to mix in the butter.
Mix in 1 cup milk until the dough has combined. If too dry, add more milk 1 tbsp at a time. (Be careful not to knead the dough too much).
Roll dough into an approximately 2-3cm thick layer. Use a mould (or an upside-down drinking glass) to cut out circles.
Place scones on a lined baking tray and bake in the middle of the oven for about 20 minutes, or until lightly golden.
Let cool slightly, then serve each scone with a generous dollop of black cherry & blueberries yoghurt.
Passionfruit Yoghurt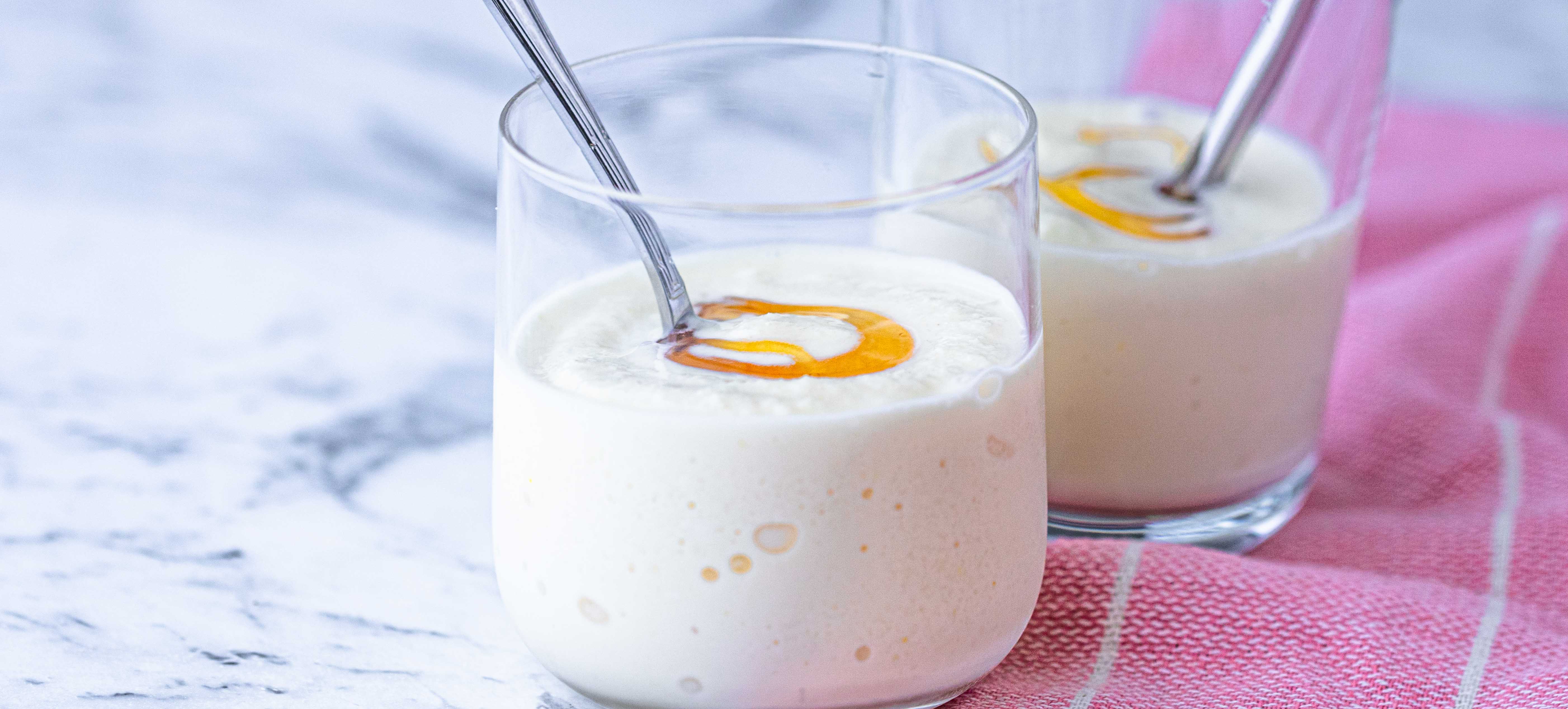 Passionfruit soft-serve fro-yo
Picture this; the birds are chirping and the sun is shining from a cloud-free sky. You're comfortably relaxing on a blanket in the grass, enjoying an ice-cold, creamy, homemade passionfruit frozen yoghurt. Sounds good? Then we've got good news; making this decadent yet guilt-free treat is super easy!
Ingredients:
1 tub of Naked Food Co passionfruit yoghurt
A drizzle of honey
Optional: 1/3 cup milk (of choice) for a more smoothie-like consistency
Method:
Freeze the tub of yoghurt overnight.
Remove frozen yoghurt from the container, transfer to a blender, and blitz until smooth. Add milk if you'd prefer a more smoothie-like consistency.
Serve in glasses and drizzle with a little honey to serve.
Green Apple & Cinnamon Yoghurt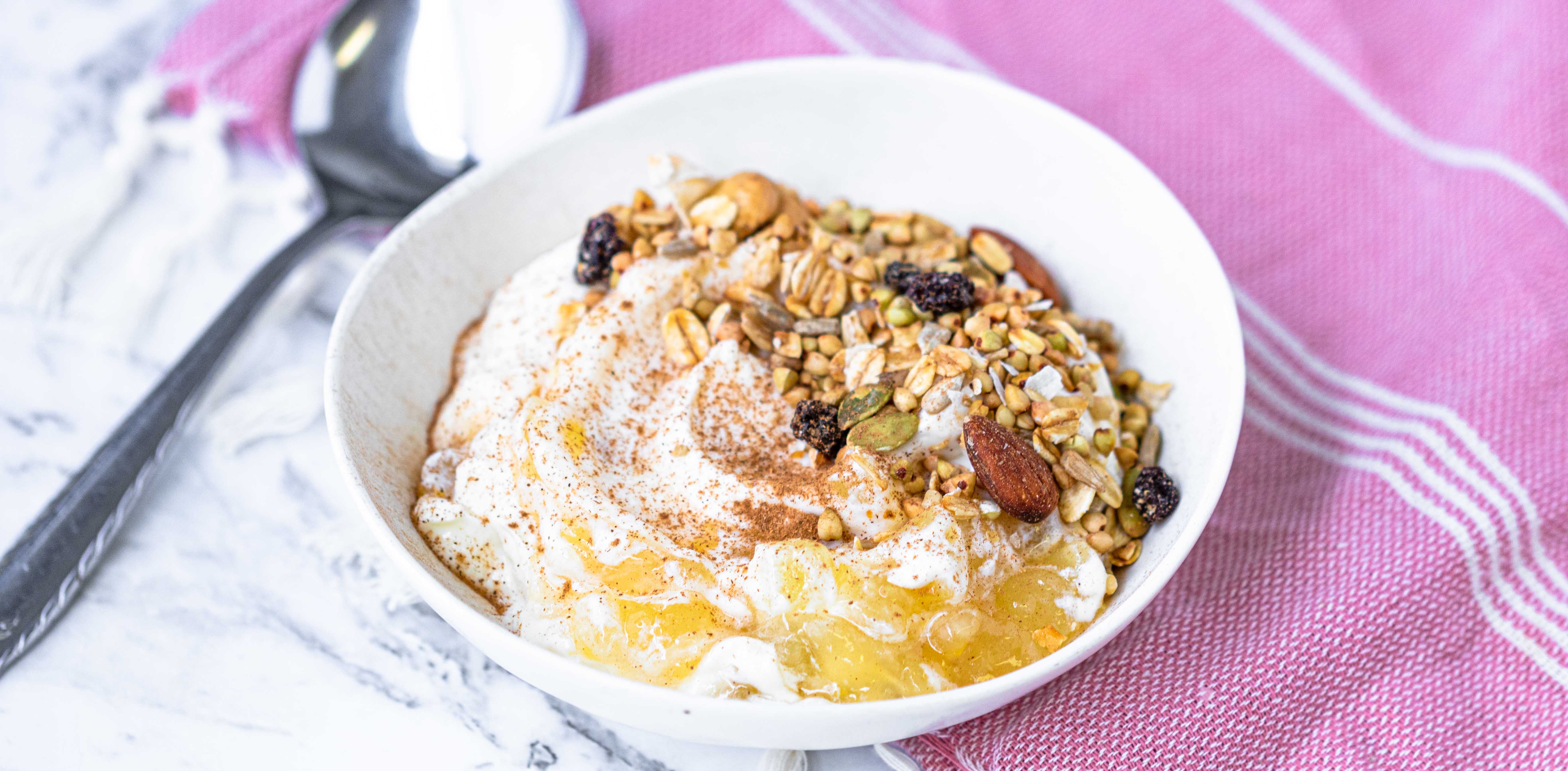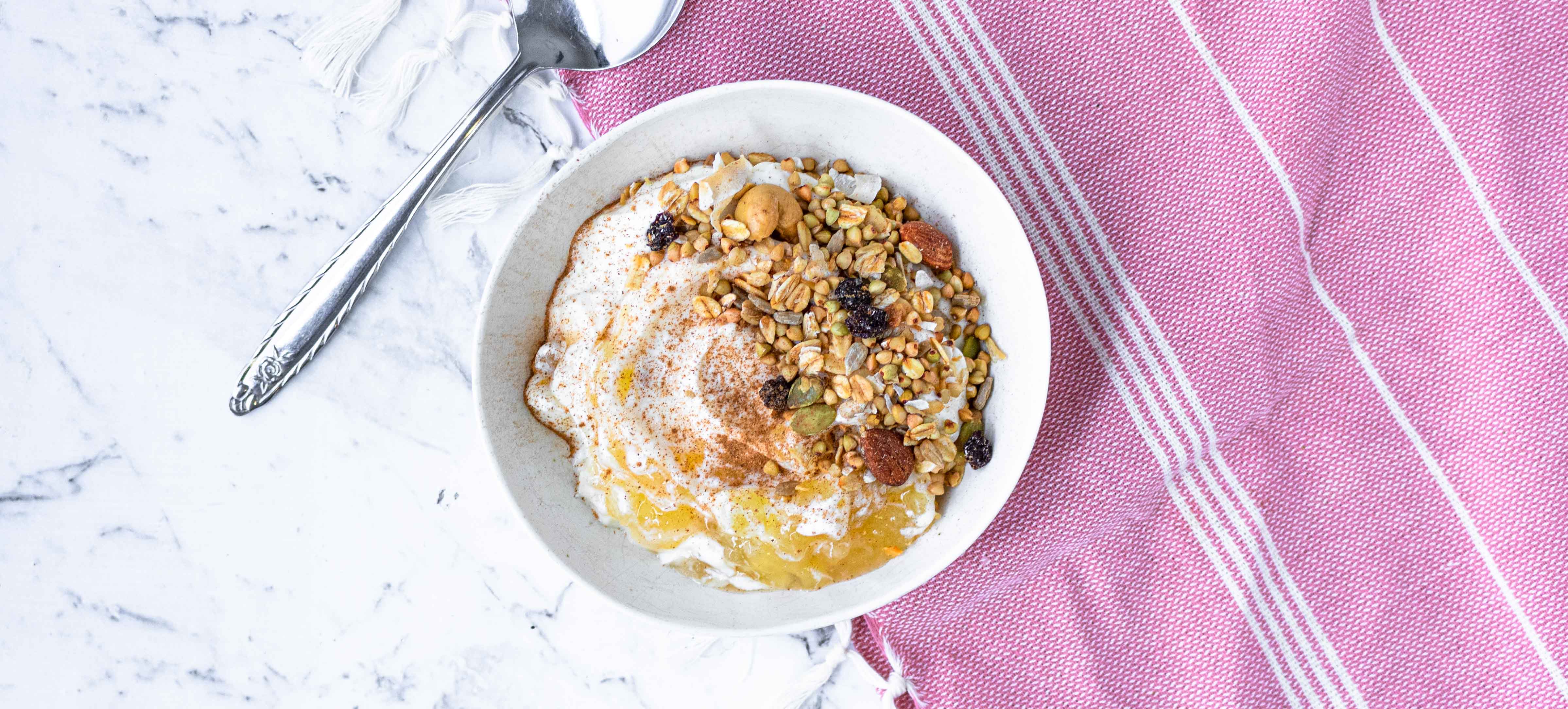 The wholesomest (that's a word, right?) treat in town
Creamy yoghurt, sweet-yet-tangy green apple compote, warming cinnamon, and crunchy WA-made granola... Does it get any better? We think not.
Ingredients:
1 tub of Naked Food Co Green Apple & Cinnamon yoghurt
Granola to taste (we used Nutty Granola from Plant Made WA)
A sprinkle of ground cinnamon
Method:
Transfer yoghurt and apple compote to your favourite serving bowl (we know you've got one)
Sprinkle with granola and a pinch of cinnamon
That's it, it's that easy!
Inspired to make your own yoghurt treats?