A beautiful display of WA-local favourites.
Crispy, soft, sweet and savoury — this gorgeous platter has something for every taste bud.
And better yet? It's centred around Western Australian ingredients from small-batch suppliers, so it's a celebration of our amazing state, its food, and its people.
Here's what's on the platter: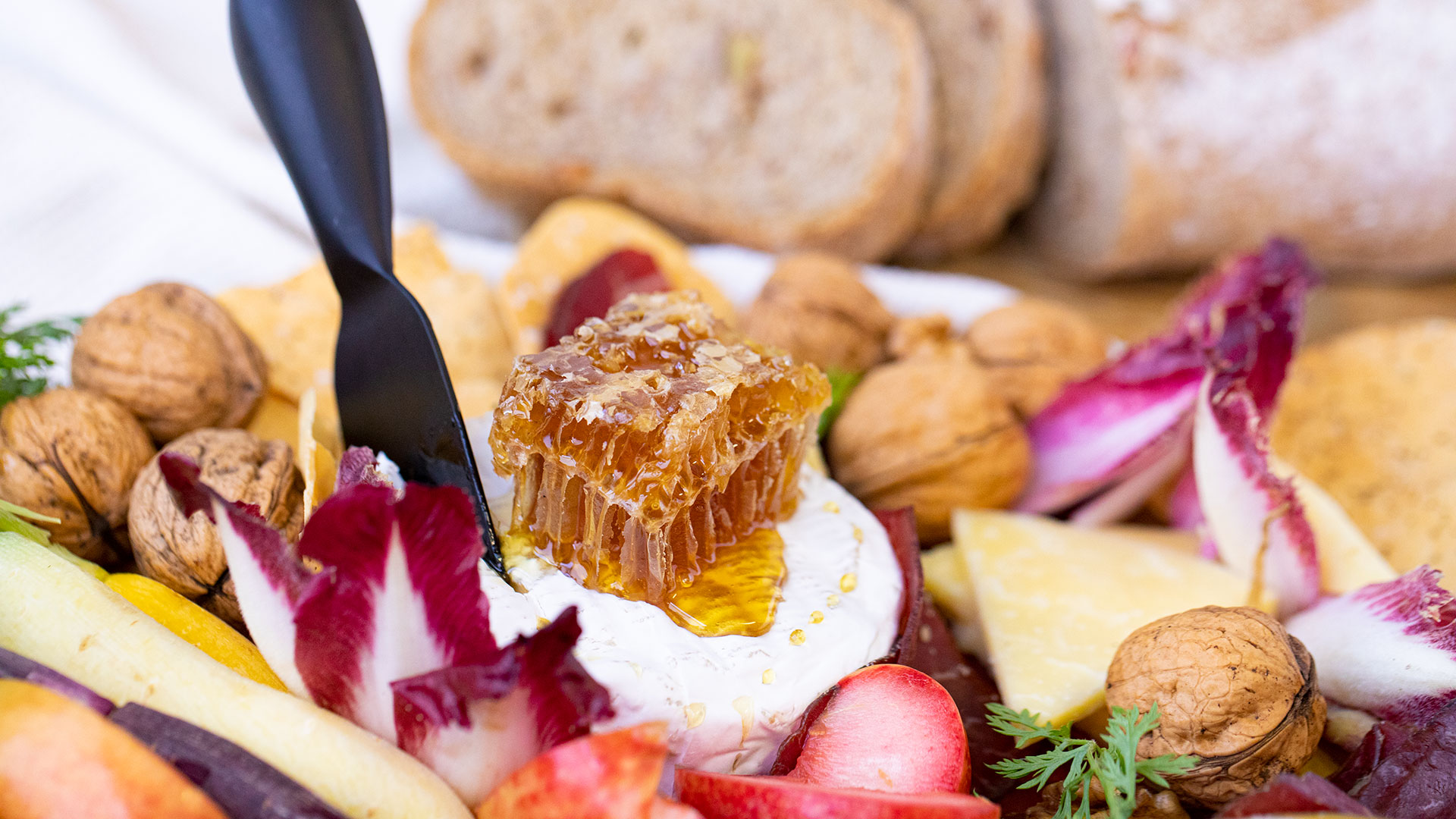 Ocean Brie from Dellendale Creamery
A soft and mild brie, hand-made from West Australian cows' milk in Denmark WA. Best enjoyed when soft as the flavours intensify.
Pairs well with: honeycomb, nuts and celery seed lavosh.
Nullaki Cheese from Dellendale Creamery
Dellendale's creamy semi-firm cheese with washes of roasted wattle seed during ageing, resulting in an irresistible sharp and earthy flavour. Made from Australian cows' milk.
Pairs well with: bread and butter pickles, bresaola and fresh seasonal fruit.
Persian Fetta Ball with Lemon Myrtle from Naked Food Co
Smooth, hand-rolled ball of fetta with citrus flavours of native lemon myrtle, thyme and dried herbs. Spread it over a slice of walnut loaf or use as a dip for seasonal vegetables.
Pairs well with: walnut loaf bread and seasonal vegetables.
Walnut Loaf from Ahbis Bakery
Hand-made artisan bread, baked fresh in Fremantle by Ahbi's Bakery. This wholemeal base loaf is textured with walnuts for a lovely nutty finish.
Pairs well with: Persian fetta ball, bread and butter pickles and nullaki cheese.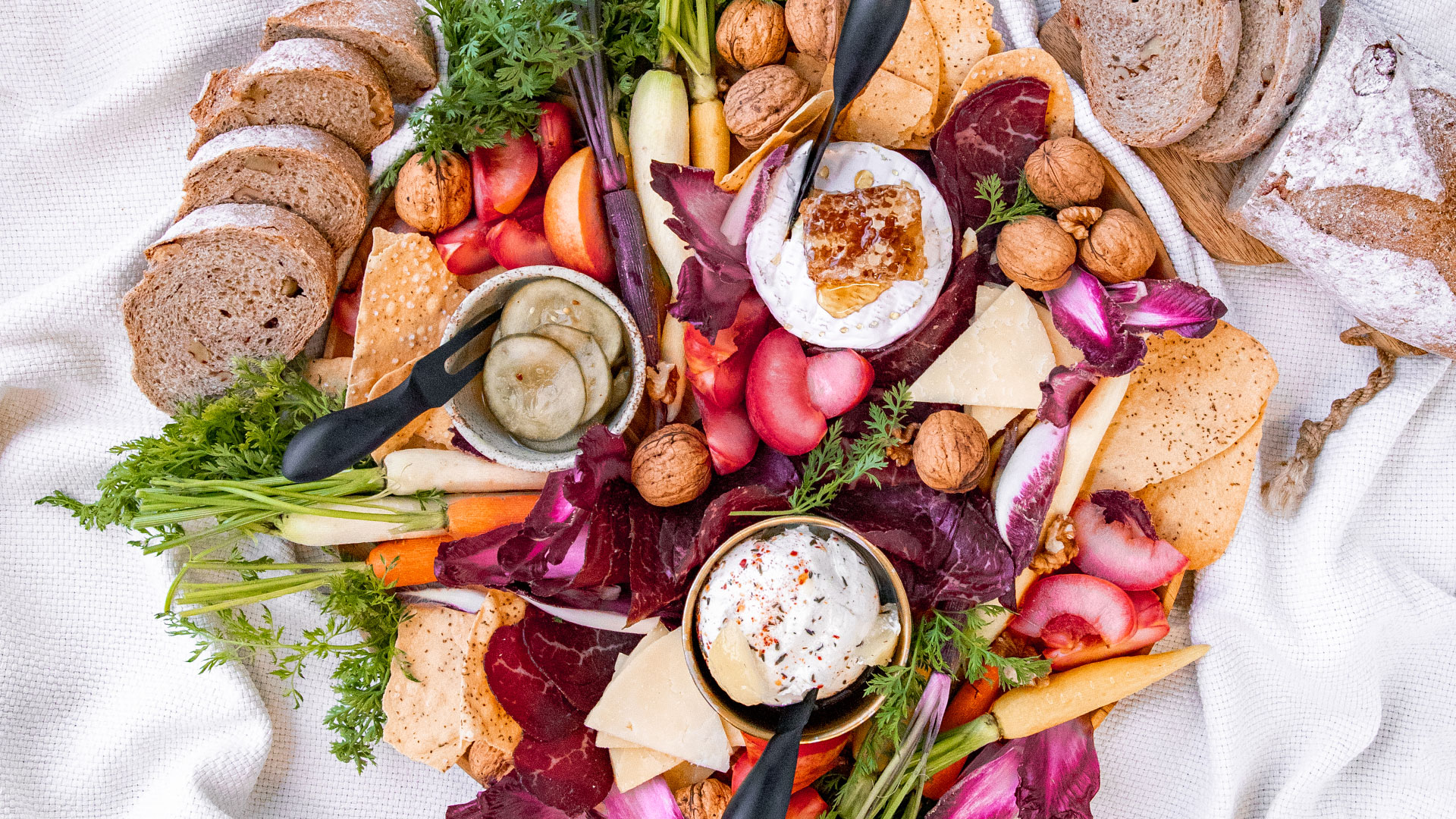 Celery Seed & Sea Salt Lavosh from Knutsford Gourmet
Large, thin and crispy savoury wafer biscuits sprinkled with celery seeds and sea salt to taste, baked fresh in Balcatta, Perth.
Pairs well with: Persian fetta ball and Ocean Brie
Honey Comb from Comb & Co
Sweet, natural and fresh honeycomb sourced locally from Bullsbrook and Munchea area, Western Australia. The perfect touch of decadence for the graze.
Pairs well with: Ocean brie and Persian fetta ball.
Bread & Butter Pickles from Little Farm Provedore
These delicious small-batch bread and butter pickles are seasonally made by Little Farm Provedore. The hint of chilli and sharpness brings a lovely contrast to the earthy nullaki cheese and rich bresaola.
Pairs well with: nullaki cheese, bresaola.
Local Beef Bresaola
Thinly sliced deli fresh beef bresaola, rich in flavour and ever so moreish!
Pairs well with: nullaki cheese, bread and butter pickles and seasonal fruit.
Seasonal WA Produce
Hand-selected fresh fruit, vegetables and nuts, all perfectly complimenting and celebrating the flavours of Autumn.