Crispy, flaky and baked croissant cups, lined with smoked free-range ham and filled with creamy ricotta and a pastured egg - breakfast sorted!
Bring these golden croissant creations to your next weekend brunch or make a batch for lunch box treats!
A few cooking tips:
Use spinach or sliced tomato instead of ham for a vegetarian version.
We used a large muffin tray mould. If yours is a smaller one, simply tear the croissant to size. Alternatively, you can use ramekins.
You can easily transform this into a single bake instead! Halve all the croissants and arrange them in a deep baking dish. Layer with the ham and spoon in ricotta. Crack the eggs on top and bake all together.
Whisk the eggs and ricotta together to make a quiche base. Slice and add ham and chives or chopped veggies. Spoon the quiche mixture into the cups and bake.
Ingredients:
3 large butter croissants
100g sliced ham
3/4 cup ricotta cheese
1/2 cup grated cheddar or Parmesan cheese
6 free-range eggs
sliced chives for garnish
Makes 6. You will need a muffin tray for this recipe.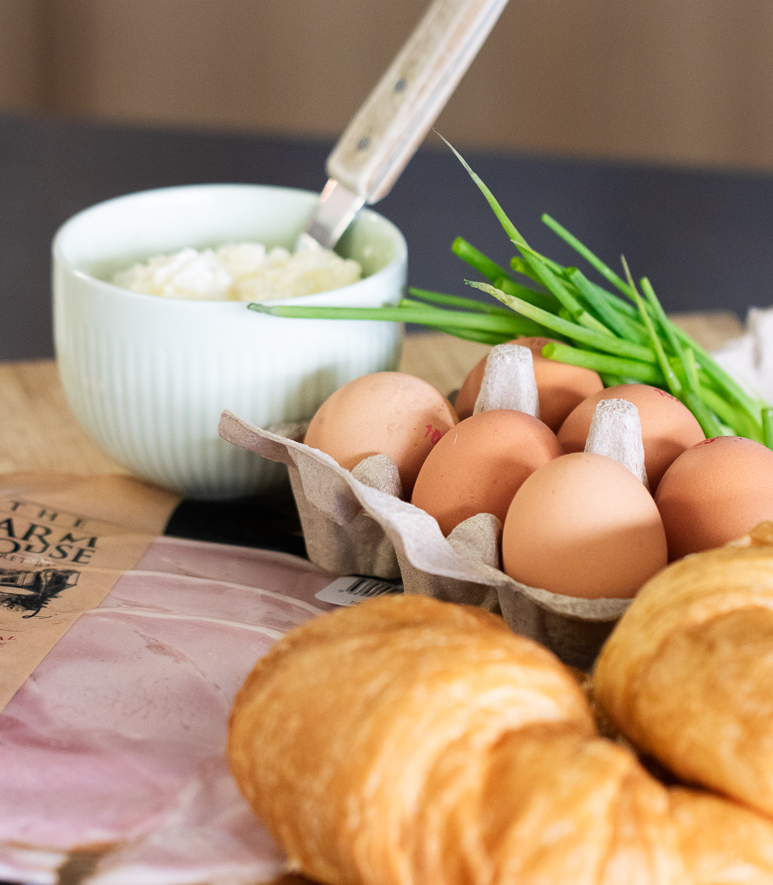 Method:
Preheat the oven to 180ºC.
Combine the ricotta cheese with grated cheese in a bowl (reserve some for the top). Season with salt and pepper.
Grease the muffin tray. Cut each croissant in half. Open each croissant half up and fit them into the cavities of your muffin tray.
Line each croissant cup with sliced ham and fill halfway with ricotta cheese. Crack an egg in each one (crack into a small bowl first) and top with remaining cheese. Bake in oven for 20-25 minutes or until egg is cooked to your liking and cheese is melted.
Want to make this at home? We used Abhi's Fresh Butter Croissants, CharCol Springs Pastured Eggs, and The Farm House Smoked Ham from the Dinner Twist Marketplace.