A DELICIOUS, HOME-COOKED SPREAD FEATURING FAMILY FAVOURITE DISHES THAT HAVE BECOME A TRADITION OVER THE YEARS. STRESS-FREE, FUN TO CREATE AND A LITTLE INDULGENT - IT IS THE HOLIDAYS AFTER ALL!
Get excited, because this year everything you need for full festive dinner (or lunch!) is available on the Marketplace! This means you can get the best quality ingredients delivered to your door, avoiding the shops altogether.
We have designed this menu using the simplest of ingredients, so it's easy for you to add your own twist if needed. Vegetarians, you haven't been left out! We also have a delicious alternative - the Festive Roast Cauliflower as well as a delicious Wild Rice and Stone Fruit Salad available, both of which pair beautifully with this spread! They can be found in the Marketplace under the Christmas tab!
If you have organised yourself a dinner spread or any of the side dishes, you can follow the recipes below!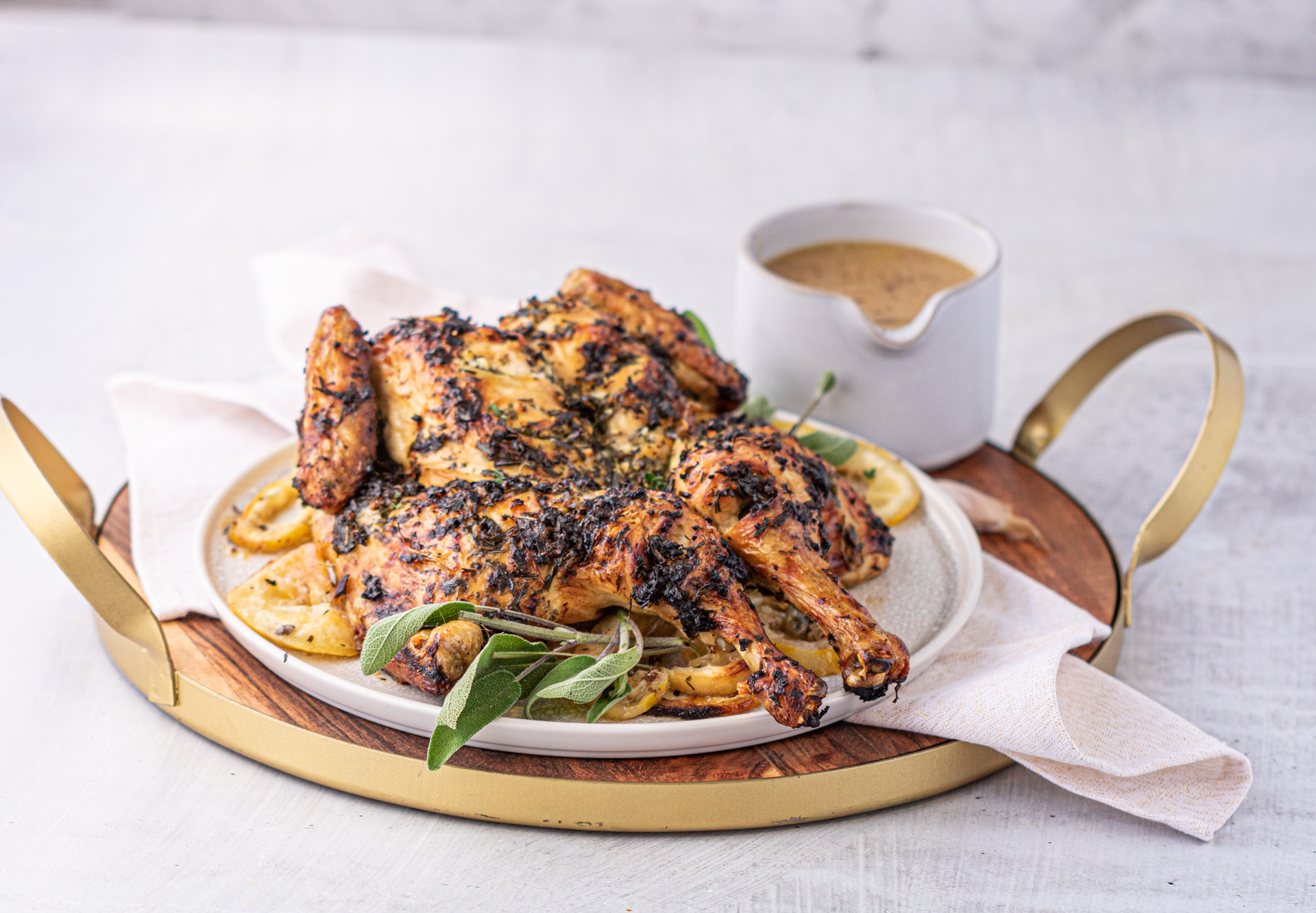 Traditional Roast Chicken
Ingredients: (Serves 4 to 6):
1 onion
1.5kg butterflied chicken
1 lemon
2 x garlic cloves
1 x herb mix sachet
1/2 jar stock paste
From your pantry: plain flour (or flour of choice), oil, salt and pepper
Roast Chicken Method:
Preheat oven to 220ºC.
Slice onion and place on the bottom of a lined oven tray.
Combine lemon zest with 1/2 lemon juice, 2 crushed garlic cloves, herb mix, oil, salt and pepper.
Slice remaining lemon and place on top of onion. Slash chicken to the bone and rub herb oil over to coat. Place on top of sliced lemon and onion.
Roast in the oven for 40-45 minutes until cooked through.
Onion Gravy method:
After the chicken is cooked, remove the onion from the oven tray and add to a frypan over medium heat (cover chicken and set aside to rest).
Stir in 1 tbsp flour and 1/2 tbsp stock paste until the onions are coated.
Slowly pour in 1 1/2 cups water and whisk until combined. Increase heat to medium-high and simmer for 3-5 minutes until thickened.
Pour in resting juices from the chicken. Season with pepper.
Tips
You can strain the gravy or blend it for a smoother consistency. Reserve the chicken bones after they are roasted! You can use them to make a lovely chicken stock.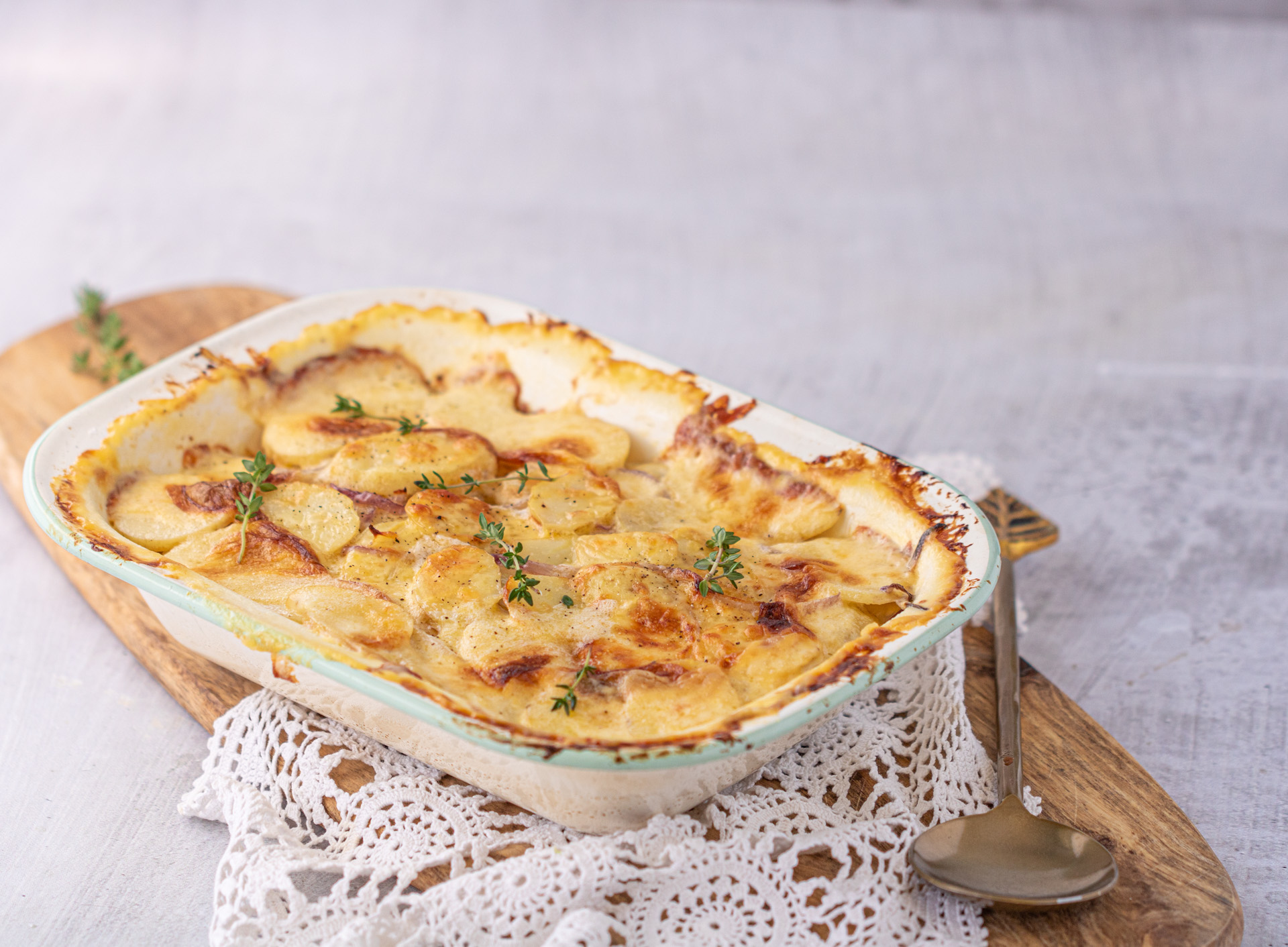 Cheesy Potato Bake
Ingredients:
1.2kg potatoes
1 red onion
600ml fresh cream
200g grated cheddar cheese
From your pantry: salt and pepper
Method:
Preheat oven to 220ºC.
Thinly slice potatoes and onion. Toss together in an oven dish with salt and pepper.
Pour cream over potatoes and sprinkle over the grated cheese.
Cover and bake for 30-40 minutes until potatoes are tender. Remove cover and bake for 10-15 minutes until cheese is bubbly.
Tips:
Add a little sprinkle of nutmeg or fresh rosemary for added flavour. A mandolin or a food processor with slicing attachment makes this dish even speedier. If you are hand cutting the vegetables you may need to adjust the timing according to the thickness of the potatoes.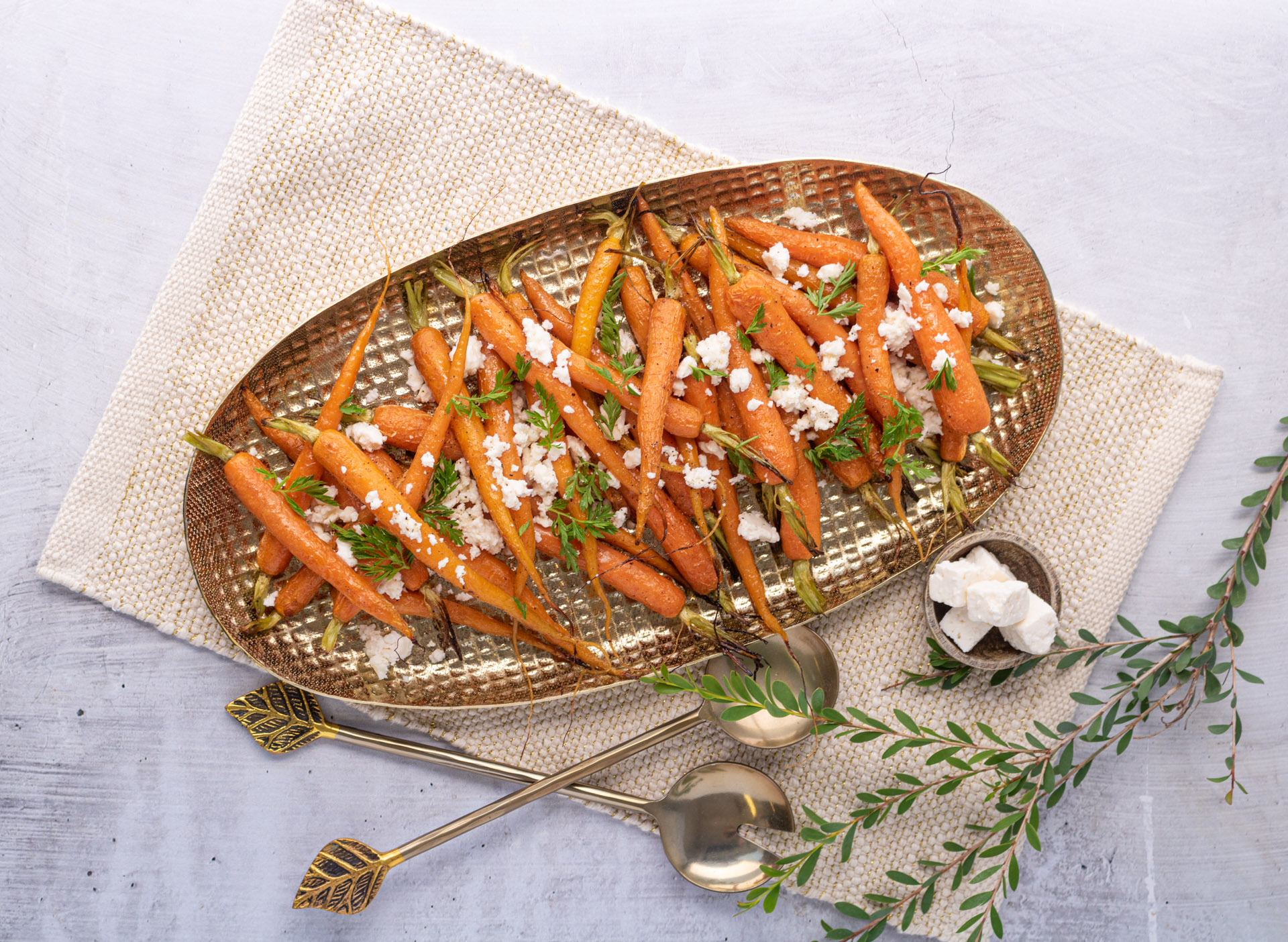 Honey Dutch Carrots
Ingredients:
2 bunches Dutch carrots
2 sachets of raw honey
1 tub feta cheese
From your pantry: oil, salt and pepper
Method:
Trim and scrub carrots. Toss with on a lined oven tray with honey, 1 tbsp oil, salt and pepper.
Roast for 20-25 minutes until tender and cooked through.
Arrange carrots on a serving plate. Crumble over feta cheese.
Tips:
The feta cheese adds a nice saltiness that balances out the sweetness of the honey. Alternatively, you can save the carrot tops and blend together with some lemon juice and olive oil to make a fresh salsa sauce to go on top! This dish also works well with toasted pepita seeds or nuts sprinkled over top!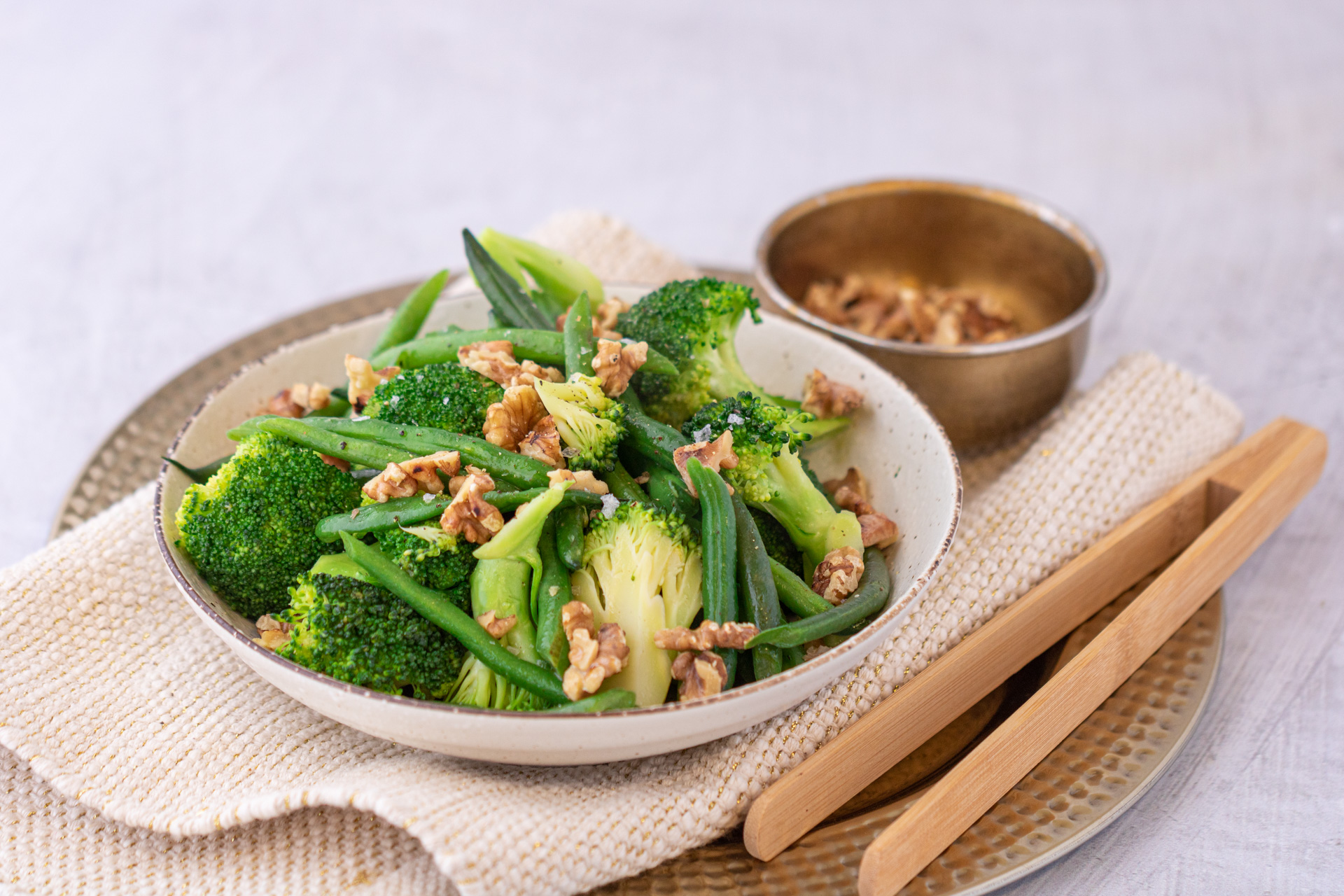 Gorgeous Greens
Ingredients:
1 broccoli
250g green beans
130g walnuts (use to taste)
From your pantry: butter or olive oil, salt and pepper
Method:
Cut broccoli into small florets. Trim and halve beans.
Add to a frypan over medium heat with 1/2 cup water. Cover and cook for 6-8 minutes until tender.
Remove to a serving bowl and toss with olive oil or butter. Season with salt and pepper.
Chop walnuts (toast first if desired) and use to garnish.
Tips:
Add some crushed garlic to the vegetables if desired!