Kimchi - great to add to salads, as a garnish and in sandwiches. We have put together a few delicious alternative ways to use this yummy fermented food! We have the white miso & dry red pepper kimchi available for purchase in our Marketplace which is very mild and loved by all palettes. Green st kitchen's kimchi is fermented the wild way, meaning there is no starter culture used to initiate the fermentation process. The ingredients are exactly what is listed on the side of the jar - cabbage, salt, flavoursome ingredients and time. We hope you enjoy these 3 Yummy ways to incorporate Kimchi into your meals.
Kimchi Omelette (serves 2)

Ingredients
– 4 eggs
– 1 spring onion (sliced)
– 1/2 cup kimchi
– Sesame oil (for cooking)
Toppings (optional)
– 1 avocado
– Fried shallots

Method
1. Whisk the eggs in a bowl with spring onion. Season with salt and pepper. 
2. Heat a frypan over medium-high heat with 1/2 tbsp oil (or butter).
3. Add eggs, swirling to cover the pan evenly. 
Cook for 2-3 minutes until the bottom is set.
4. Spoon kimchi over top. Use a spatula to lift the edge of the eggs around
the pan to release them and then fold the omelette onto itself. 
Continue cooking for a further minute ( to allow the eggs to set in the middle).
5. Remove omelette to a plate. Garnish with sliced avocado, extra kimchi and
fried shallots.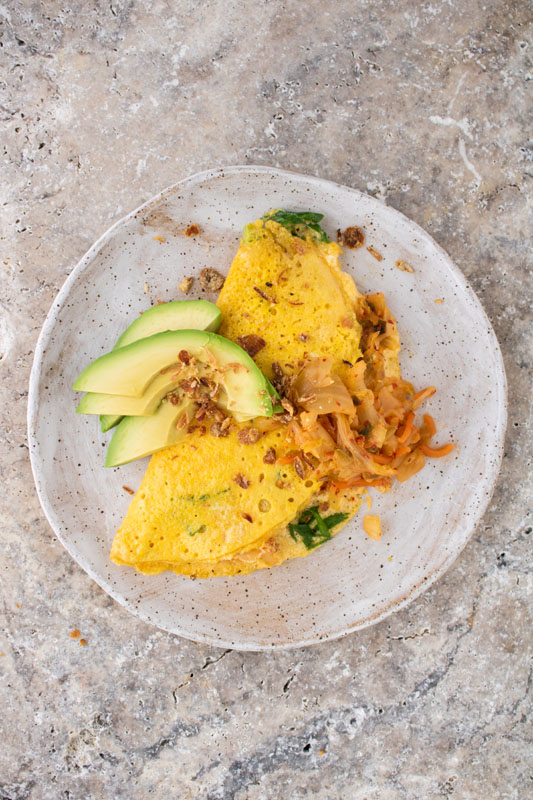 Kimchi fried rice (serves 4)

Ingredients
– 300g brown rice
– 1/2 bunch spring onions
– 2 x corn cobs
– 200g mushrooms (enoki/button/Swiss)
– 1/2 cup kimchi
– 2 tbsp soy sauce (or tamari)

Method
1. Place rice in a saucepan and cover with water. 
Bring to the boil and simmer for 15-20 minutes, or until tender. 
Drain and rinse.
2. Slice spring onions. Remove corn from cobs. Slice mushrooms.
3. Heat a large frypan or wok over medium-high heat with 1 tbsp oil.
Add vegetables and cook for 2-3 minutes until softened.
4. Take off heat. Toss in cooked rice and kimchi until combined. Season to
taste with soy sauce and pepper.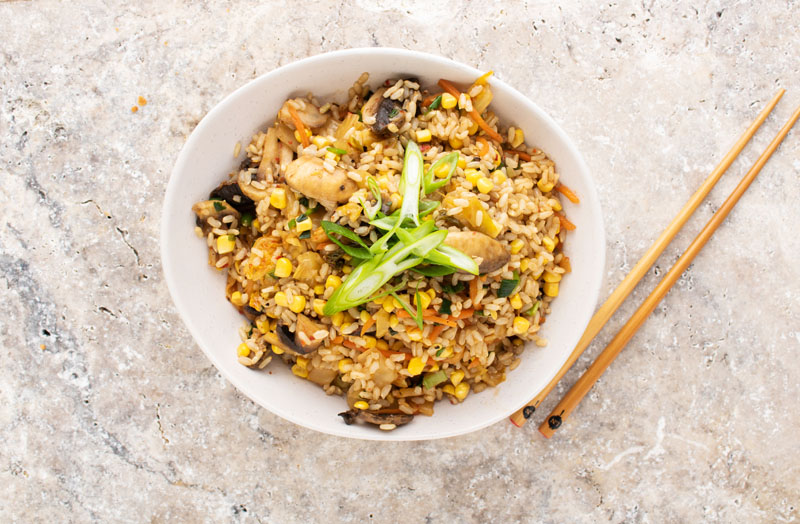 Kimchi Toasties (serves 2)

Ingredients
– 4 slices of bread
– 1/2 cup grated cheddar cheese
– 1/2 cup kimchi

Method
1. Heat a frypan over medium-high heat with 1 tbsp olive oil or butter.
2. Assemble sandwiches with even amounts of grated cheese and kimchi. 
3. Place sandwiches into the frypan and cook for 4 minutes pressing down
occasionally with a spatula.
&. Add more olive oil or butter to the pan, turn sandwiches over and cook for a
further 4 minutes or until cheese is melted.