Turmeric paste is all the rage right now, and for good reason!
It's touted to boost your health thanks to its high content of antioxidants and anti-inflammatory compounds, most notably one called curcumin.
This means that turmeric paste may reduce inflammation, improve brain function, lower heart disease risk, improve symptoms of arthritis, and more!
Turmeric is bright yellow, and is a main ingredient in curry powder mixes. By itself, the flavour is much milder than that of curry, and thus, it works a treat in both sweet and savoury drinks and meals.
We've added a Perth-made turmeric power boost paste from Total Tonic Co to the Dinner Twist Marketplace, made in small batches by a family business (just like ours!)
Here are 3 tasty ways to enjoy turmeric paste — so grab a jar of turmeric paste on the Dinner Twist Marketplace and get cooking!
Turmeric Omelette with Fried Veggies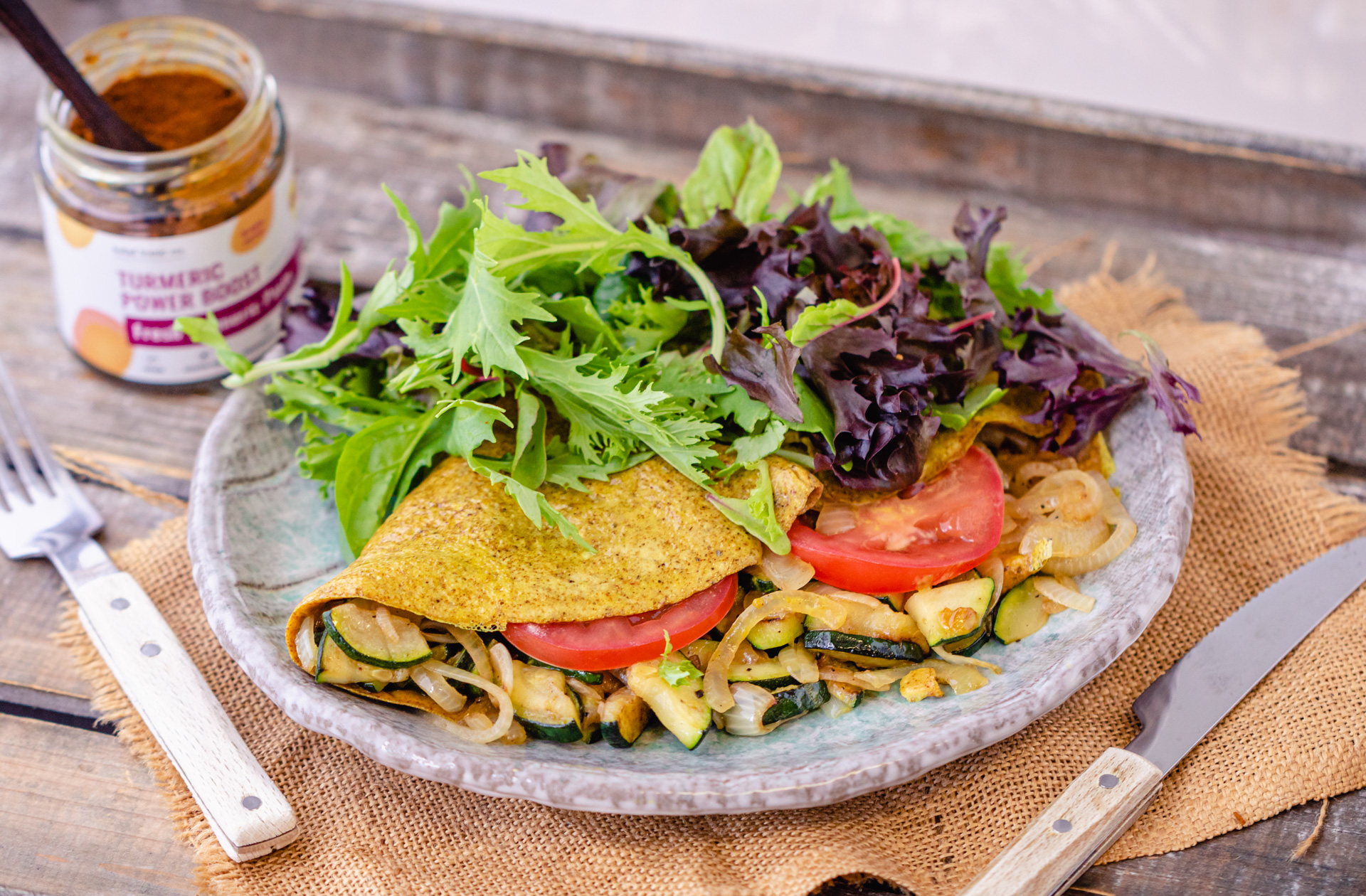 What you need (serves 2):
1 tsp turmeric paste
3 eggs
60 mL (1/4 cup) milk/cream (of choice)
1 zucchini
1 small onion
Lettuce
1 tomato
1/2 tsp ground cumin or curry powder
salt & pepper
oil/butter for cooking
Method:
Heat a non-stick frypan with a little oil/butter over medium-high heat. Dice zucchini, slice onion, and add to frypan with cumin or curry powder. Fry for 5-6 minutes until tender. Season with salt and pepper. Remove to a bowl and keep frypan.
In a bowl, whisk together eggs, milk, and turmeric paste.
Add egg mixture to frypan (make 1 large or 2 smaller omelettes) and fry for 1-3 minutes, until almost set.
Add the veggies to one half of the omelette(s) in the frypan, then flip other half over to cover.
Remove to a plate and serve with lettuce and sliced tomato.
Tips:
You can replace zucchini & onion with any veggies you have on hand. Our favourite suggestions include mushrooms, spring onions, eggplant or capsicum.
Turmeric Hummus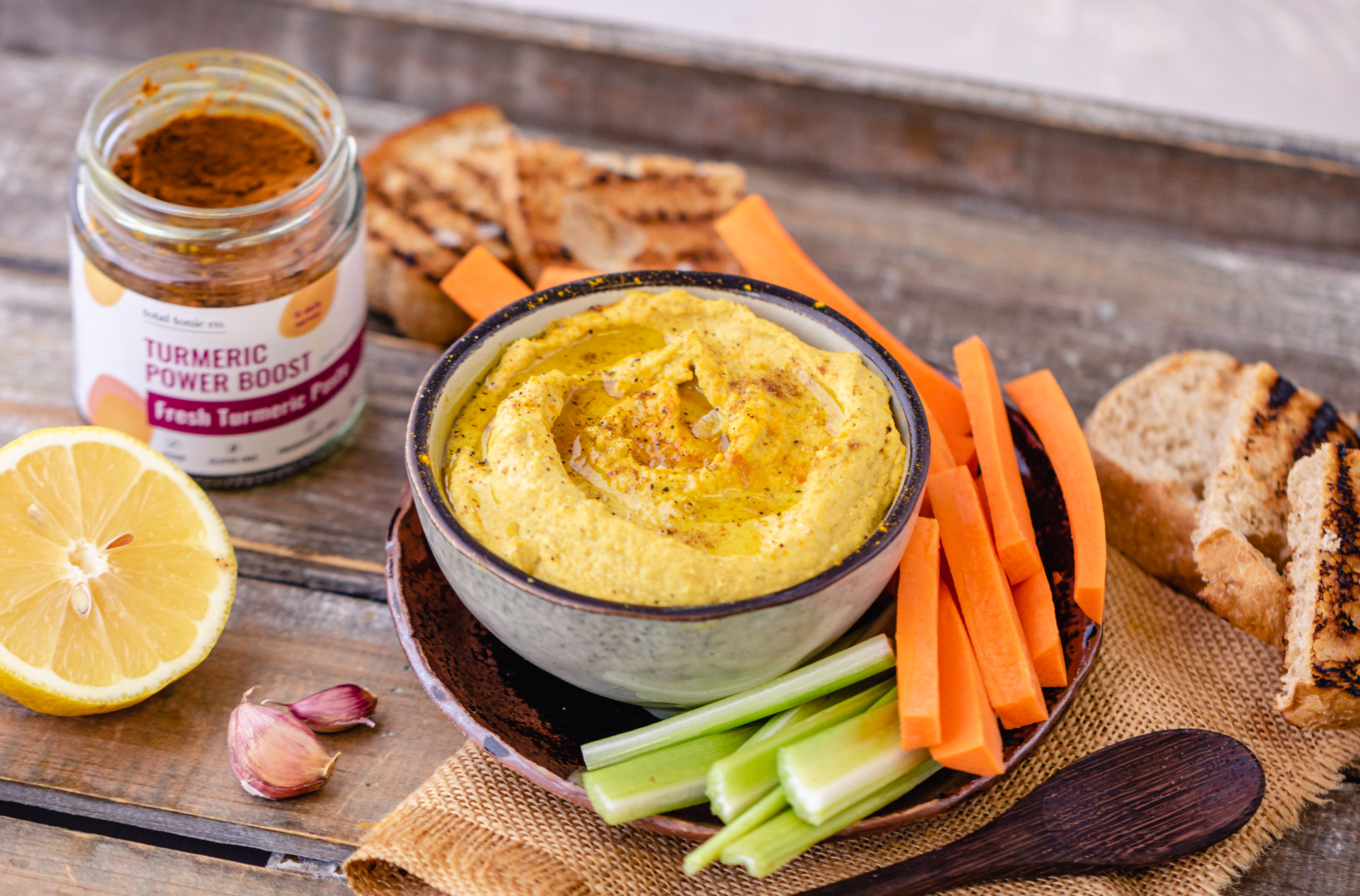 What you need (serves 4):
1 tsp turmeric paste
1 tin chickpeas, drained
juice from 1/2 lemon
1/4 cup tahini
2 tbsp extra virgin olive oil
1/2-1 tsp cumin (to taste)
1 garlic clove
2-3 tbsp water
Method:
Blitz all ingredients except water in a blender. Add 1 tbsp water at a time until the hummus has reached the desired consistency.
Season with salt and pepper.
Serve with veggie sticks, crackers, and/or crusty bread.
Tips:
This hummus keeps in the fridge in an air-tight container for several days. You can serve it with flatbreads, in wraps, in sandwiches, or as the star of your next grazing table!
Golden Latte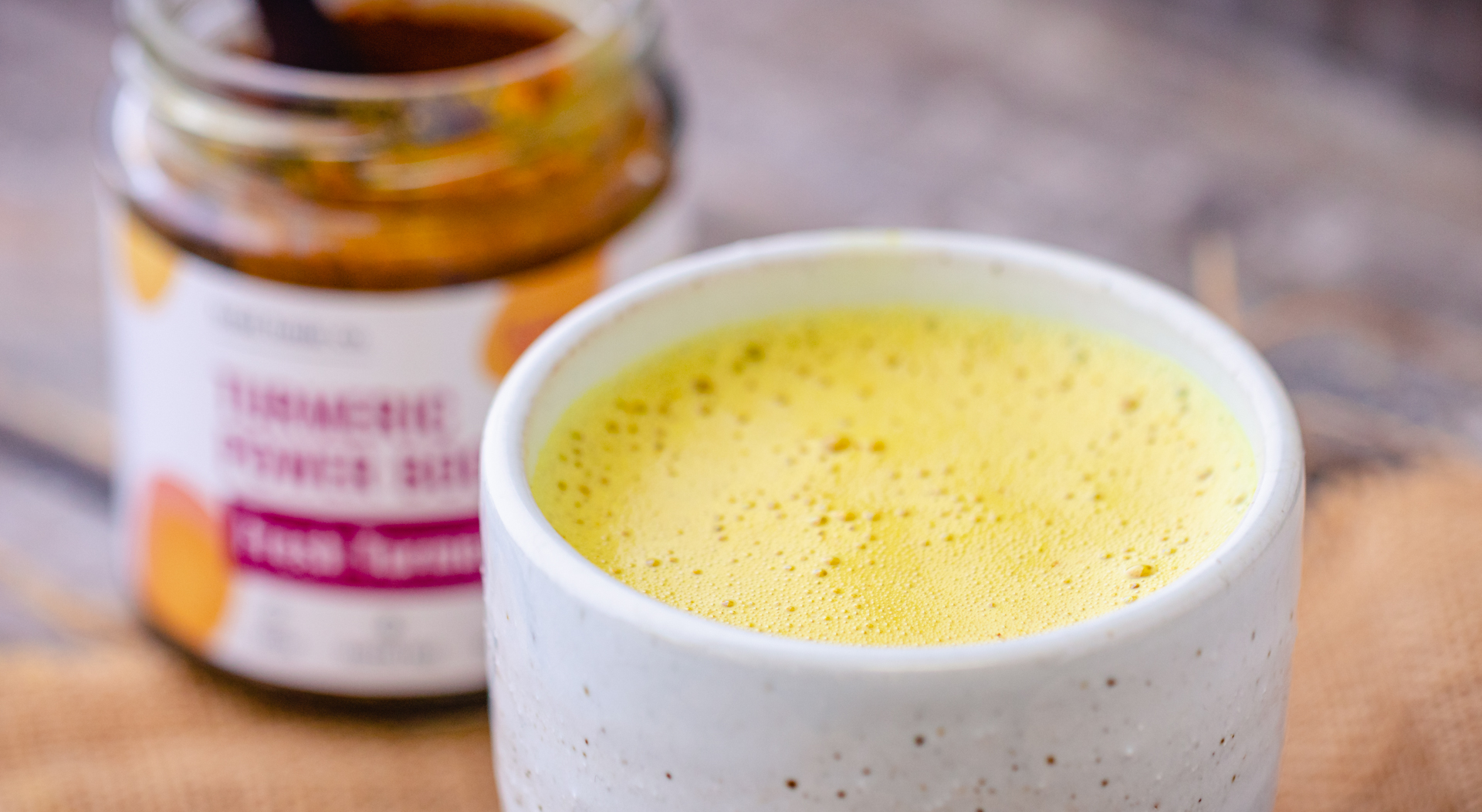 What you need (serves 2):
500ml milk (of choice)
2 tsp turmeric paste
honey/maple syrup to taste (we used 1 tsp)
Method:
In a saucepan, slowly heat milk and turmeric paste, making sure it doesn't boil. Stir well to keep from burning and to dissolve the paste.
Sweeten to taste with honey or maple syrup.
Strain into 2 mugs and enjoy warm.
Tips:
You can add other spices to taste! For example, use a pinch of ground cinnamon, cloves or ginger.
We used these items from the Marketplace: