Have you got a few apples lying around that you're dying to make use of? Love eating apples but want to jazz up your basic go-to snack? Looking for a fun and nutritious choice for an upcoming birthday party? Or do you just need to keep the kids busy (or quiet) for a moment to regain your sanity? Well regardless of the reason, this recipe may just be your new favourite!
With summer upon us we are always on the hunt for fresh, tasty treats to enjoy during the warmer days and nights. These easy, no baked and guilt free apple donuts are super versatile, delicious and a great after school snack, full of healthy, good-for-you ingredients. They are perfect for getting the kids involved in the kitchen and getting their hands dirty. Simply get them to add the toppings of their choice and munch away! A nutritious, 10-minute summer snack with hardly any cleaning up to do. It's a win win!
Apples are packed with antioxidants and dietary fibre that help neutralise free radicals and aid digestion. Fibre also helps stimulate the release of gastric and digestive juices to ensure efficient uptake of nutrients. They help you feel full for longer and are rightly named a "nutritional powerhouse".
Why should we snack? Snacking is actually a great thing! Eating every 3 hours or so helps keep your blood sugar stable, helps prevent overeating at meals and can help you avoid feeling "HANGRY". Snacking is also a fabulous way to get in your recommended serves of fruit and vegetables, which is something a lot of us struggle with. Did you know that only about 1/3 of the Australian population consume the recommended number of serves of fruit on a daily basis!? These little guys are a great way of helping you and your family reach your daily fruit and veg recommendations!
INGREDIENTS
- 3 Apples (makes roughly 9 doughnuts)
- Natural peanut butter (or any nut butter of choice)
- Natural Greek yoghurt
Toppings of choice: Try fresh or dried fruit, granola, cinnamon, coconut, seeds... Whatever tickles your fancy - the world is your oyster!
METHOD
Slice and remove top and bottom off each apple. Slice apples into rounds (thickness of choice).
Using a small knife or apple corer (if you have one) remove the centre to make a "doughnut"
Top the apple rings with nut butter or yoghurt using a knife or small spoon. Garnish with toppings of choice. Note: You can even pipe the spread of choice onto the apples using small piping bags or zip-lock bags. This makes it a fun and artistic way to get the kids involved.
VOILA! A simple, scrumptious and healthy snack for any occasion!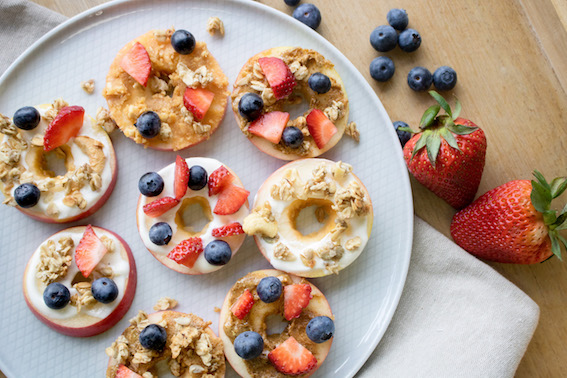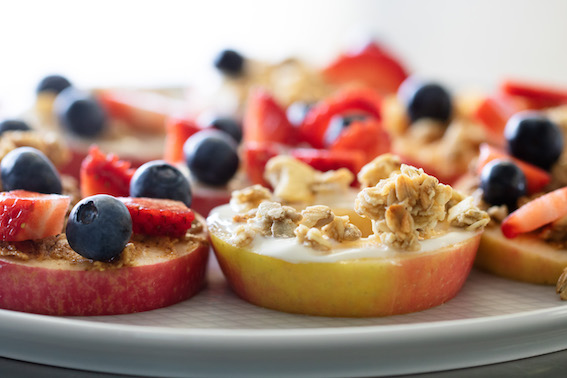 Did you give this recipe a go? Show us your deliciousness! If you love any of our tip of the week recipes and have given them a shot in your own kitchen, take a snap of your masterpiece and send it through to us. We'd love to see you and the family enjoying them as much as we do!