Seasonal cooking Fire Cider!
Fire cider is a fantastic remedy to help boost your immune system and keep Winter illnesses at bay. Fire cider is anti-viral, anti-bacterial, anti-fungal and is a great decongestant. Fire cider is also fantastic for digestion and is known to be anti-inflammatory. As fire cider takes 4 weeks to soak the ingredients together, it is best to get the brew going now so that you can reap the full benefits before all those Winter nasties find their way into your home.
Fire Cider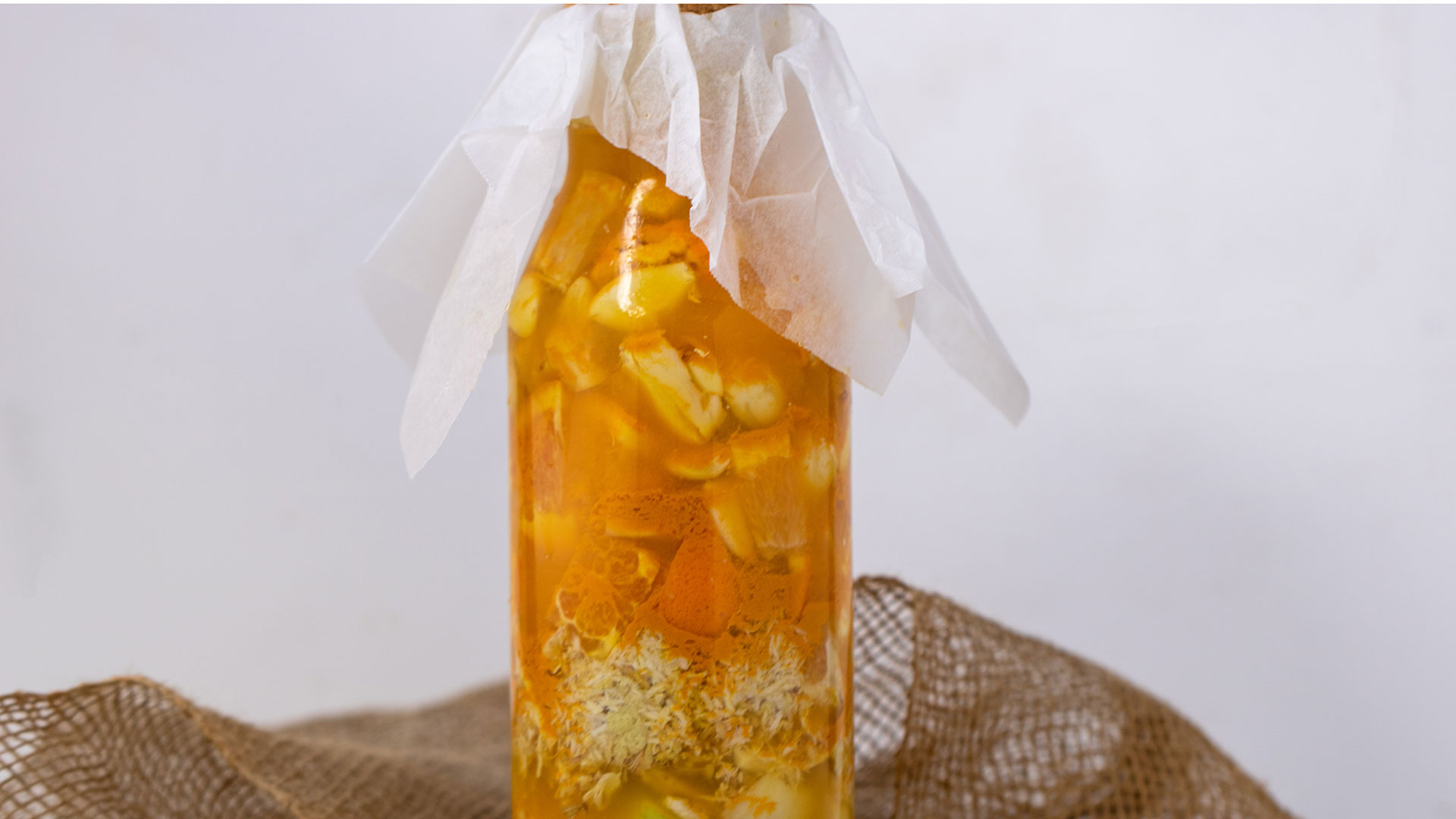 Ingredients:
1 piece horseradish (about 10cm long, omit or subsitute with 1 tsp wasabi paste)
1 large piece ginger (roughly 50g)
1 brown onion
1 orange
1 lemon
1 head garlic
2 habanero chilli (or chilli of your choice)
1 tbsp ground turmeric
500ml apple cider vinegar (roughly)
Method:
Grate horseradish and ginger. Roughly chop onion, orange, lemon and garlic. Stuff into a large glass jar along with ground turmeric.

Pour apple cider into the jar with other ingredients. Lay a piece of baking paper over the rim of the jar then screw the lid on tightly (or secure baking paper with an elastic band if you jar is missing it's lid).

Store the jar in a cool, dark place for 4 weeks. Give it a shake once every few days.

Strain the mixture through a clean cloth, giving the cloth a good squeeze to get out any last bits of liquid. Pour into a clean jar or bottle to store for up to 1 year.

Serve 3 tbsp fire cider in a mug of hot water with honey, with sparkling water or as a replacement for vinegar in salad dressings.
Want to make this at home? We used Brown Onion, Global Spices Turmeric and BRAGG Apple Cider Vinegar
from the Dinner Twist Marketplace.